Click Any Photo To Enlarge! " * " Denotes A Definition Available on the Common Terms Page
Current Venue:  Tempe, AZ (Phoenix Area)
Campground: Tempe Travel Trailer Villa
Visiting : Desert Botanical Garden
Today I got to meet my full-timer friend, Kyra.  I met Kyra in the RV Dreamers chatroom last year before she even began her full-time journey.  So far she's done much of the same route as me, coming down the California coast and wintering in Arizona.  She's on the move now, making her way to New Mexico and, ultimately Maine and then "somewhere warm" by the end of the year.  That's the "plan."  It sounds pretty ambitious, but Kyra also cited the motto, "A full-timers' plans are written in Jello."
Today we're visiting the Desert Botanical Garden.  At the entrance, some pretty incredible glass art…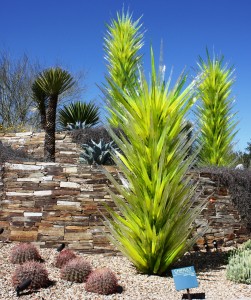 There's more art spattered throughout the park, some eerily similar to Men in Black characters…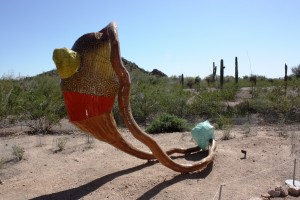 But I came to see PLANTS, by golly!  Here are some traditional Sonoran Desert types…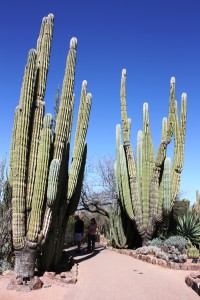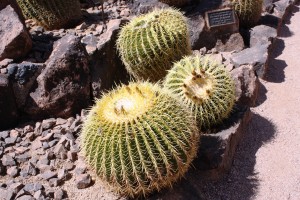 And some strange vine-like cacti…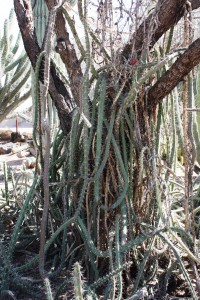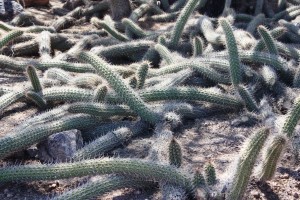 And much, much more…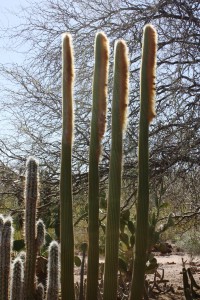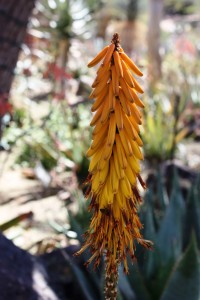 This one's for my little nieces.  They looooove chipmunks…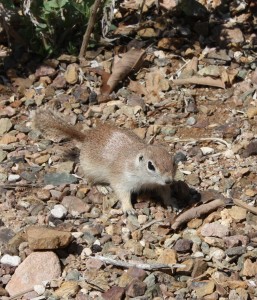 After the Botanical Gardens, I let Kyra get the rig settled in over at Casino Arizona.  They have a dry-camping area for RVs at no charge, and you can stay 3 nights — up to 6 nights if you're a player.
In the evening, Jimbo joined us for a magical evening of dueling pianos.  The truth is, the act was TERRIBLE!  The lead singer was constantly off-key, there was never a duel, and they turned away a lot of song requests because they simply didn't know very many.  Here is how happy Jimbo and Kyra were when they escaped…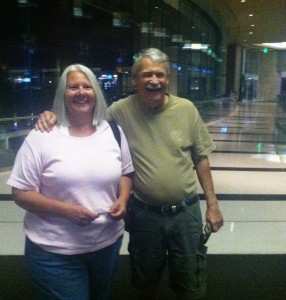 What a week!  I feel like I'm on a real working vacation now.  Lots of baseball and new RV acquaintances. It's a good thing I'd recently discovered enough room on one of my credit cards to finance nearly all of it.  I almost feel guilty I'm having so much fun…but I'll make up for it with some extra focus and hard work in April…
And truthfully, I'm looking forward to it.  My recent circumstances have opened my eyes to what I really need to do to keep my dream alive.  I've also reorganized my projects in a manner that I think I can put a good deal of energy into all of them and make a little financial progress.  Also, I'm finally confident I'll have enough resources to limp back up to Vegas and work for the summer.  I'm beginning  to see the light at the end of the tunnel.