Click on Any Photo to Enlarge
Current Venue:  Redding, CA
Campground:  Sacramento River RV Park
This is where I've been spending more than half of my time working in Redding. After I'd won my first 15 sessions and eventually 27 out of 32, my earnings this last week started to level off. My good run has been fantastic, but it can't last forever.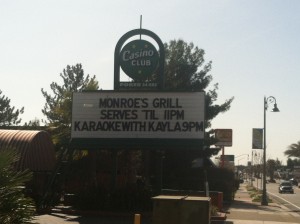 A lot of the poker clubs in California are a bit different than your traditional casino (the other one in town is a full-size Indian Casino).  They can be quite small and intimate.  I think the most unique thing that I'll miss here is the personalized service you get from the do-it-all waitress/cook.  Admittedly, it could take up to an hour to have your food delivered, but it's always been worth it — every single meal has been prepared with great care.
Chasing Down Cops
This is pretty much what Redding has looked like since I got here.  This was the day I went to get my taillight repaired after I'd gotten a ticket from a "CHiP" officer.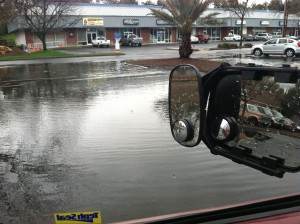 Now get this:  Here, when you get an equipment violation, you can flag down a police officer to sign off on the repair so that you can pay the fine.  I talked to 3-4 different people about this because I was in disbelief… but you can literally wave down a cop on the street to sign off on these!
(But that was just too weird, so I went down to the courthouse and paid a little extra for the experience, instead).
Redding Chapter Coming to a Close
The resident fixer-upper came by and re-sealed everything. He looked like he knew what he was doing, and said on the first dry day he wants to take off the vent and take a look at it. The best part? He's doing it all for FREE!
The Redding Chapter of The Journey is coming to a close pretty soon.  The World Series of Poker is insisting I go to Vegas two months early to audition. My next stop? Some more poker action in Petaluma, CA…