Current Venue:  Redding, CA
Campground:  Sacramento River RV Park
I won't even make you wait for a dramatic climax.  Here they are…deep-fried green beans!  I'm convinced you can pretty much deep-fry any crispy green vegetable and, with some ranch dressing, have a delightful meal.  The green beans are now near the top of my list as far as my favorite deep-fried vegetables go.  DE-licious!
(While we're discussing unusual deep-fried foods, I recommend staying away from deep-fried bacon if you ever run across it.  I was sick for nearly two days after I tried it, and I have little doubt someone with a weak heart may have died as a result of consuming this devilish concoction).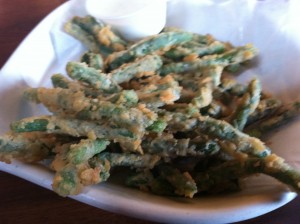 When I downloaded this photo off my iPhone, I'd found some others I'd neglected.  Here are some random highlights from this last month…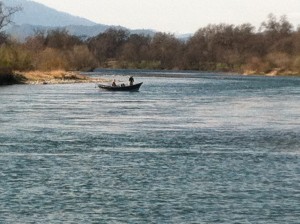 This riverbank is perhaps the steepest dropoff I've ever seen right on the shore.  It's hard to capture in the photo, but I estimated the water to be at least 12 feet deep just below my feet…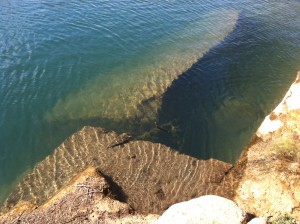 This is where I've been spending more than half of my time working in Redding.  A lot of the poker clubs in California are a bit different than your traditional casino (the other one in town is a full-size Indian Casino).  They can be quite small and intimate.  I think the most unique thing that I'll miss here is the personalized service you get from the do-it-all waitress/cook.  Admittedly, it could take up to an hour to have your food delivered, but it's always been worth it — every single meal has been prepared with great care…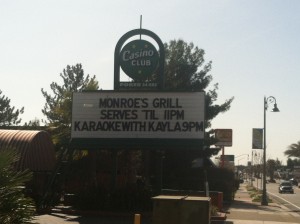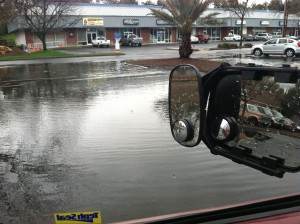 This is pretty much what Redding has looked like since I got here.  This was the day I went to get my taillight repaired after I'd gotten a ticket from a "CHiP".  Now get this:  Here, when you get an "equipment violation", you need to track down a police officer to sign off on the repair before you can pay the fine.  I talked to 3-4 different people about this because I was in disbelief… but you can literally wave down a cop on the street to sign off on these!  (But that was just too weird, so I went down to the courthouse and paid for the experience, instead).
The Redding Chapter of The Journey is coming to a close pretty soon.  The park manager informed me she misspoke when she said I'd be pro-rated for my extra days here.  At that rate, I won't be able to fool around long on the way back from Reno next week.  Also, my outstanding poker results have dwindled, as I'm only having a break-even week to this point.  The signs are there…it's nearly time to shove off!  And, while my mind is mostly consumed with my trade show in Reno this weekend, I'm already looking forward to my next stop…Petaluma.
Today and tomorrow I'll be finishing my trade show preparations.  My promoter just sent out a broadcast and I already have a couple inquiries to sign up for my early-bird special at the show.  That's good news.  Thursday is the long drive to Reno.  When I get there, I'll drop Jeepers off at my sitter, check into my hotel, and run errands most of the day.  Friday is setup.  Early Saturday I'll be meeting with my assistant for breakfast and hopefully a long, successful day of presentations.  Sunday night I'll pick up Jeeps and head towards Sacramento.
When I get back here, I'll extend my stay day-to-day, dependent on what my new handyman needs to do with these leaks.  In a previous post I jumped the gun a bit in declaring partial victory in this matter.  One hour after making that post — 3 leaks.  The long-repaired skylight even started acting up again.  Well, I happened to run into one of my neighbors, who sent her husband over to take a look.  He re-caulked the storage fixtures — for FREE.  Additionally, Dale said he'll do any additional work I needed done (within reason)  — for FREE.  He said the first day we get some dry weather he wants to take the skylight lids off to examine them for cracks.  This is a good neighbor to have — a retiree who remodels and flips old RVs as a side-business…and he takes care of his neighbors, for FREE.  I'll certainly stick around a couple extra days if I need to!
Speaking of good neighbors, there's the Mushroom Guy, Wally (see "Mushroom" post).  He's getting me in touch with his former manager, Joe,  in the mushroom-buying business.  We sat down a couple nights ago and chatted for a good while about the reality of breaking into the business.  Yeah, back to reality — it takes awhile to earn your broker's and your pickers' trust and become a popular buyer on "the circuit", but he says that once you're "in", you can really pick and choose your venues and when you want to work.  I jotted down Joe's number, and intend to touch base with him after I get back from Reno.  I think it's a very interesting opportunity.
Next Story: The Flush and Run