Where I'm At:  Lodi, CA
Campground: Stockton KOA
So this is how The Ramblin' RiverCat Marks His Territory…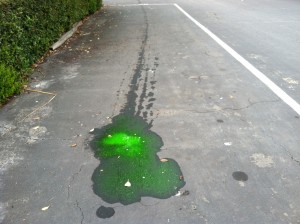 Wait a minute! If you're one of my millions of subscribers, you probably recognize this picture from a previous post.  But I assure you this photo is not recycled.  Nope, that is a brand new puddle of anti-freeze.
It happened again.  The leaf spring kit punctured a second hose in as many weeks.  Unbelievable!   Luckily, I didn't start spewing coolant until I pulled into my campground.
After quickly registering at the office, I turned the key and watched the temperature gauge shoot straight up.  I didn't have much time to drop this trailer.  As the engine smoked, I overshot my turnoff and performed a tight backup/turnaround maneuver that was beyond my ability. I got lucky, and somehow managed to reach my site.
Now what!  It was approaching late afternoon so I figured the best thing to do at that moment was to jump in the hot tub. After a successful soak, I trusted my instincts once again and decided explore the ice cream parlor at the marina…
It was there that I was introduced to the resident mechanic.  He was able to cut away my damaged section of hose, couple it together, and fill the radiator with water so  that I could at least drive the vehicle to a mechanic the next day.
When it Rains, It Pours…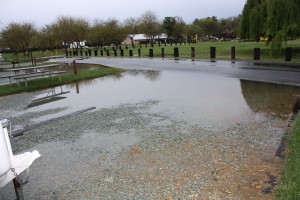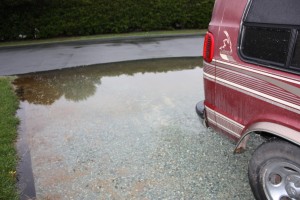 It rained and rained all night.  At 4 am my power shorted out!
I spent all day Thursday dealing with Les Schwab and trouble-shooting here at base camp.  Here's the damage report:
1.  The leaf spring "helper" must come off permanently.  It should never have been installed on my particular vehicle in the first place.  I have to pay the difference on parts for the new leaf springs, but Les Schwab will cover labor and refund the cost of the part being removed.  The new leaf springs are are not due to arrive until next Wednesday or Thursday.
2.  Leaks.  Two down, still two to go.  The seals around the vents seem to have fixed the bathroom and kitchen leaks.  But the one in the bedroom cabinet is still going strong. Most important, I have to figure out whey my wiring is getting wet and tripping the circuit.
3. I'm stranded at an expensive campground.  There's one with a weekly rate of just $140 down the road.  Just one problem — I don't have a tow vehicle at the moment.
4.  The poker landscape has changed.  I thought I was putting myself right in the middle of a poker-rich region, but the bigger games have dried up in recent years, and it appears I'll have to make a commute to earn a decent wage.
I've lost my direction a little, but I think I can sort this out…