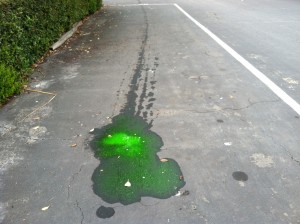 Current Venue:  Lodi, CA
Campground: Stockton KOA
Wait a minute! If you're one of the millions of Ramblin RiverCat subscribers, you probably recognize this picture from a previous post.  But I assure you this photo is not recycled.  Nope, that is a brand new puddle of anti-freeze.  You see, this is how the RiverCat marks his territory…
It happened again.  The leaf spring helper punctured a hose.  Unbelievable.  I pulled into my campground Wednesday gushing coolant (this is the second time I was at least fortunate to discover this in a safe place rather than do severe damage to my van on the highway) — and I was none too pleased about it.  How could this happen 2 times in less than 2 weeks?  After all, Firestone secured the hoses as far away from the bolt as possible.
And about these hoses.  Do you know what they're for?  Climate control in the back of my "garage."  Of course, they're completely unnecessary on this van that was once a luxurious conversion — it's a bedroom-on-wheels no more.  But the problem is only 2 of the hoses can be re-routed.  The other one is A/C, and apparently that one is pressurized, so there is really nothing you can do with it.
After quickly registering at the office, I turned the key and watched the temperature gauge shoot straight up.  I didn't have much time to drop this trailer.  I raced around the park trying to find my spot, made one wrong turn towards a dead end, backed up, turned around, and managed to find my spot and unhitch the trailer without further damage.
Now what.  I knew I was miles from anywhere, it was the middle of the afternoon, and I wasn't ready to have it towed to the next town.  So instead, I jumped in the hot tub at the pool.  Shortly after, I walked to the ice cream parlor and was quickly introduced to the resident mechanic.  That evening, he was able to cut away the piece of hose that was sliced and couple it together so I could at least drive the vehicle to a mechanic the next day.  As we filled the radiator up with several gallons of water, he explained that he was mainly a boat mechanic here at the marina.  There are hundreds and hundreds of boats here, so I imagine he has a pretty good gig.  Mark, my new best friend.
And then the rains came…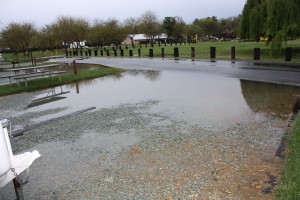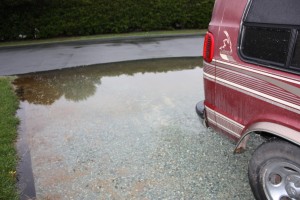 It rained and rained all night.  At 4 am the power clicked off.  Really?!  But I watched my old best-friend-in-Redding, Dale, seal that porch light up real good!  Is the water getting to the wiring on the inside?
I spent all day Thursday dealing with Les Schwab and trouble-shooting here at base camp.  Here's the damage report:
1.  The leaf spring helper must come off.  It should never have been installed on my particular vehicle in the first place.  I do have to pay the difference on parts for the new leaf springs, but Les Schwab will cover labor and refund the cost of the part being removed.  The part is not due to arrive until next Wednesday or Thursday.
2.  This is really pressing me for time to get to Vegas for a World Series audition by April 26th.  Additionally, I'm continuing to struggle jumping through their hoops to even get it scheduled.  If I do manage that, I'll go ahead and get the trailer settled in Vegas rather than finish my SoCal trip.  If I get on board with the WSOP in June and July, I use the extra month in Vegas to play poker, regroup, and be better-prepared for the next leg of the Journey.  Additionally, it will give me time to work on my blogs and business ventures.  I need to slow down the pace.
3.  Scooter.  The front tire is flat and my gas cap needs replaced.  The gas cap hasn't gone on straight since my wreck.  This was no big deal until The Journey began.  The fumes in the van are becoming a problem.  Of course, I have to order it.  And I need someplace to have it shipped to before I do that.  Another reason to head to Vegas early.
The front tire is a result of the wreck, as well.  Although, after hammering out the rims and using a fix-a-flat type of repair, I thought I'd had it fixed awhile back.  Apparently not.  I'll try one more repair on my own before I take it to a motorcycle shop.
It seems I can't ride it in California, anyway.  I need registration here.  Another reason to head to Vegas early.
4.  The poker landscape has changed here.  I thought I was putting myself right in the middle of a good wage-earning opportunity, but the bigger games have dried up, and it appears I'll have to make a commute to make money.  Gas is going to cut into my earnings a little.
5.  I'm stranded at an expensive campground.  Yep, there's one with a weekly rate of just $140 down the road.  Just one problem — I have nothing to tow it with.
6.  Leaks.  Two down, still two to go.  Dale's work around the skylights seem to have fixed the bathroom and kitchen leaks.  But the one in the bedroom cabinet is still going strong.
And then there's the "mystery" leak getting to my wiring somewhere.  After doing a bit of troubleshooting (taping up 3 fixtures)…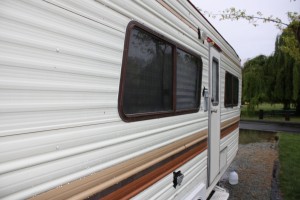 I've determined it's something else now.  I wonder if this switch is getting to be a little "sensitive" to moisture.  It would be 12 hours before I could reset it this time (normally it's less than 2 before "it" dries out).  Later in the evening, it was down again!  I've been without since then.  When this happens I still have plenty of indoor lighting, but only one power outlet…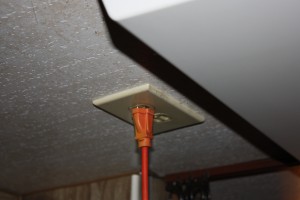 It's not pretty, but with extension cords I can make do in the interim…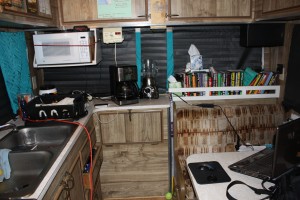 I want to consult with Dale about this switch.  Knowing that the mixture of water and electricity sets this thing off, I wonder how much of a safety issue it is to get it  removed.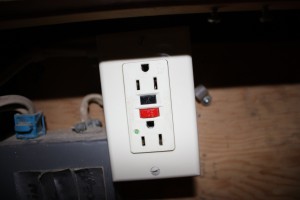 There you have it…a full damage report.  I won't lie — I'm a little tense this week.  I have yet to earn any money and it seems I'm sinking into a bit of a money pit with expensive campgrounds and repairs.  But next week I'll be right back on track.  Right?!
Next Story: Awl Leathered Up