Click Any Photo To Enlarge! " * " Denotes A Definition Available on the Common Terms Page
Current Venue:  Tempe, AZ (Phoenix Area)
Campground: Tempe Travel Trailer Villa

I wouldn't miss spring training baseball, even during stressful financial times — my adventurous nature will always get the best of me.  Hey, at least it's not a drug addiction.  I also justify it because it's cheap and I coordinate it with business trips and errands.  For instance, on Tuesday I'm going to go see the Brewers after a nearby doctor's appointment.  Today, it was a networking trip to a Home and Garden Show in Glendale…
I met up with an exhibitor I know about possibly taking his products to the East Coast on an old trade show circuit I used to do.  But I didn't keep all my eggs in one basket — I also made about 5-6 other connections at the event.
I'm an opportunist.  And when I saw Wheel of Fortune was doing live auditions at this event, I just couldn't resist.  Everyone fills out a short application, has their name drawn from a barrel, and goes on stage for the fun and games!  Then, if they do well on stage, they get invited back for a 2nd round of auditions in one month.  Hey, why not!  I inquired as to how many names would be drawn for the noon show.  I was told 20 names would be drawn around 11:45…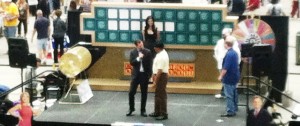 Which was true.  But what I wasn't told was that more names would be drawn later.  By that time I'd left the audience to do some more networking.  Of course, about two aisles away I heard my name called!  I had no chance to weave through the crowds and make it in time — a missed opportunity (I hate that)!
BUT if I'd stayed to win my fortune I surely would have missed my baseball game.  Camelback Ranch Stadium is home to the White Sox and Dodgers.  It's the largest of the stadiums in the Cactus League.  When you first enter the gates you see about a dozen practice fields, including this one…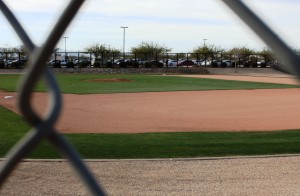 Notice anything unusual about it?  Hint:  It has no outfield!
I like the design of the scoreboard, particularly the clock.  To me the whole thing looks like a cardboard cutout…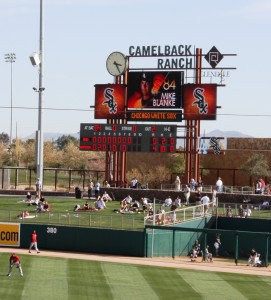 Here's a shot of new-manager-and-former-major-leaguer Robin Ventura…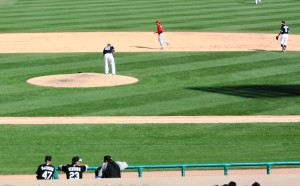 Former-Reds-and-now-White-Sox-slugger Adam Dunn…

I'd like to say this was an exciting game but, in all honesty, this one had only a few highlights:  In the first 3 innings, Carlos Quintana pitched perfect baseball while Chicago took the lead on a double and a homerun off the bat of Jared Mitchell.  Then in the 7th inning a foul ball was hit into one of these white-hot empty sections…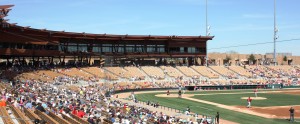 …and two boys went scurrying up the aisles to find it.  As the game resumed, the crowd began buzzing over which youngster would find it first.  If I didn't know any better, fans were placing bets!  But then an old, "portly" fellow wearing a t-shirt 10 times too small for his beer belly — just "meandered" over and scooped up the baseball.
As you can imagine, this did not resonate with the crowd.  All in good fun, of course, but they booed that poor guy mercilessly!  (Oh yeah, I was one of them).
Final Score:  Chicago White Sox 4 — Cincinatti Reds 0