Current Venue:  Tempe, AZ (Phoenix Area)
Campground: Tempe Travel Trailer Villa

Click Any Photo To Enlarge!    " * "   Denotes A Definition Available on the Common Terms Page
Saturday April 4th marks the last day working for Jesco in Phoenix.  I won't get much opportunity to enjoy it, however — I'll be in the middle of working 5 consecutive shifts between the two jobs (including a 13-hour overnighter).  It could be a brutal weekend.  But as I look at my calendar, I'm practically in disbelief : From April 7th to April 11th I'm not scheduled at either job! (Round 2 of the wildlife scavenger hunt in Fish Creek coming up…)
Next Saturday, however, I do take on my first official gig with my new business, RiverCat Productions.  It's a small event, a birthday party, but the perfect way to get the ball rolling.
After things wind down with Jesco this week, I'll have the entire summer to evaluate what to do with them.  There are a lot of  advantages, all having to do with total flexibility when I'm on the road.  I'm not exaggerating much when I say I can pretty much tell them where I'm going to be and they'll set up a store to sell in!  Or at least one en route…
I also enjoy being an entertainer.  Most of the time it's a fun, interactive experience when I'm on stage.  It's such a rush to get an audience of 10-15 people laughing and screaming — I rather enjoy it!
The disadvantages?
It generally takes several weeks for a newbie to get good at this style of sales (I'm currently earning a minimum-wage commission and my training will be cut short as I leave for Vegas).  I estimate even the better ones I've seen in this area only make around $15/hr.
It's sometimes a little depressing.  With lots of downtime between shows, I'm sitting around in a department store by myself.  It's definitely a grind.
Is it worth the incredible flexibility?  Until I find some upgrades, probably so.  I have an entire summer to work on that.  There are lots of possibilities:  Find some trade shows to work, get RiverCat Productions off the ground, workamping, deal just 1-2 other poker events, play poker…
It's reassuring I'll have Jesco in my back pocket if I need it.
My commute a couple days ago took me to Queen Creek, home of The Olive Mill.  I stopped for a few minutes and had a nice, refreshing Prickly Pear Lemonade.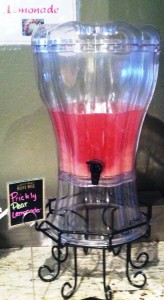 That's right, cactus lemonade.  Delicious.  Now this is a lemonade with some "bite."