Current Venue:  Bakersfield, CA
Campground: A Country RV Park
Here's a summary of my Journey so far…
Feb 28 – March.  I was pressed into action one month early after getting fired from "The Asylum."  This spelled disaster, as I didn't have nearly enough money in my savings, nor was I finished making improvements to the rig.  Additionally, I would be inconvenienced with having to come back to set up my exhibit at a trade show.  There were many risks and financial challenges, including postponing fixing the 3 slow leaks in the transmission…
But I got over the mountains into California and put together a great month playing poker in Redding — more than covering my lost wages.  Everything was going smoothly except my ongoing battle with the leaky trailer.
April.  Financial Disaster.  Here it is, in itemized form:
Reno trade show:  My experimental exhibit did not go over well.  After 2 months of preparation, I only got one class off the ground the entire weekend (my participants thoroughly loved it).  Between direct costs, wages, lodging, gas, and the additional expenses of being delayed on the way back to Redding, this was about a $2500 hit.
WSOP Fiasco:  Dealing the World Series of Poker this summer had been the plan.  I'd be a returning dealer hired base on previous experience — and have 2 months to drive down the coast of California.  But despite having dealt nearly ALL their nationwide circuit events for 3 years, I'm being told I still have to be in Vegas to audition (oral testing) in April.  With Jeepers in tow, that means I'd have to RV my way down after my trade show, thereby "rushing" by full-time RV standards.  What's this mean?  With no time to stay at weeklies, my costs at campgrounds skyrocket in an already expensive region.  Additionally, it's difficult to settle in somewhere to "work" (analyzing my best plan of attack in the poker rooms at each venue).  I don't mind saying I really, really resent this.  I'm worried I'll somehow sabotage the audition as a result.
Breakdown in Sacramento:  The recently-added leaf spring helpers punctures hoses on the van, costing an extra night's lodging and out-of-pocket.
Tire Trouble and Smashing Trees in Petaluma:  I have to backtrack to over-inflate the rear tires on the van as it handles dangerously leaving Redding.  This would cost me a couple hours.  I then sideswiped a tree at the campground.  This would mark the beginning of a string of outrageously expensive campgrounds.
Breakdown in Lodi:  Pulling into the campground, the hoses burst again!  The leaf-spring helpers would have to come off.  I'd have to pay the difference on a new set of leaf springs AND repairs on the hoses AND get the troublesome electrical switch on the trailer replaced (this one was an easy job-gone-bad as a lot of wiring was fried and had to be re-routed).
And I was stranded for a week.  Neither of these pricey campgrounds offered weekly rates and I couldn't get the leaf spring helper off in time to tow the camper down the road.  Additionally, I found myself in an area where I had no work available to me!  (It turns out all the no-limit poker action had dried up over the last two years and the nearest suitable cardroom was 45 minutes away).  I was quite simply stuck in a HUGE MONEY PIT.  This one would conservatively cost me another two grand (it's difficult to know how much I would have earned).
Ever since returning to Reno at the end of March, my luck has bottomed out.  Acing the audition in a week would sure simplify things and allow me to regroup.  But first I have to get there.  With 3 incidents in as many trips, I could only wonder what next as I prepared to depart yesterday.  Only 2 minor incidents.  Here's the first one.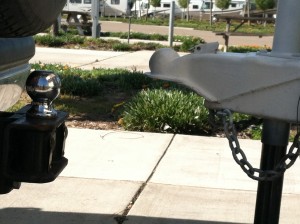 See the problem?  Now with more height on the rear end, the ball hitch is too tall.  To lower it would require tracking down a maintenance guy with the sufficient tools.  Minor delay.
The second minor incident.  A bee.  I'm slightly allergic to stinging insects.  They make me very nervous.  So, yes…while towing a trailer I found myself swatting away.  When I first spotted it, I grabbed my sunglasses — quite possibly the worst bug-swatter ever.  I reevaluated and reached dangerously across the passenger seat for a ballcap.  And I whacked him good.  A real hard WHAP!  But that only gave him a concussion.  He landed on the dashboard and eventually rose again, a bit groggy.  I hit him again.  This time he fluttered down the dash out of reach.  I took off my seat belt and delivered my final "death blow."  This time he would lay on his back, submerged in his own "goo."  Gross.  But effective — right?!
Why were his legs still moving?  Oh, it's just that post-mortem exercise, right?  A few minutes later I decided that, incredibly, this poor creature was still fighting to stay alive despite his severed abdomen!  I couldn't watch any longer.  I nearly stood up to get one last whack at him.  Again, it was gruesome.  I don't know if I'll bother washing that ballcap — I may just throw it away.
Taking recent history into consideration, this was a fantastic travel day!  In fact, with sturdier 6-ply tires and the leaf springs, the drive was quite smooth.
A Country RV Park is very much in town.  It's in a poor Latino neighborhood.  It feels very clean and safe, however, and I'd definitely stay here again.  I'm particularly fond of the clubhouse.  Not only does it have a gym and a full kitchen; but also a sitting room loaded with books and movies.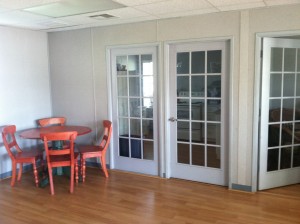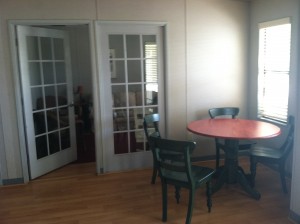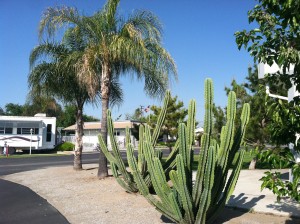 And as soon as I settle in, I'm off again tomorrow.  Destination:  Barstow.  If all goes well, I'll get to Vegas 2-3 days before my audition.
Next Story: Barstow