Where I'm At:  Bakersfield, CA
Campground: A Country RV Park
Recipe for RV Misadventure :
Old Tow Vehicle : 1997 Dodge Ram Van with a Little 318
30-Year Old Camper : 1981 Automate with Probable Leaks
Rookie RiverCat : Only One RV Road Trip Prior to 2012
2012-To-Date : 
Pressed Into Action Early : My employer cuts me loose after discovering I'd planned on putting in my notice in a few weeks. I estimate a $10,000 loss in savings and heading out with only a few thousand in my pocket.
Trade Show Concept Bombs : This was a wasted trip back to Reno to test my poker exhibit. A $2500 business gamble.
Leaks Leaks Leaks : As I suspected, the rains in California would reveal some chinks in the armor. I even lost power on a few occasions when the circuit tripped.
Leaf Spring Kit Punctures Coolant Hose Pt. I : I'm not sure how a mechanic feels that leaving a coolant hose resting on a huge bolt is OK. This would cost me a hotel night in Sacramento.
Success Interrupted : While enjoying tremendous poker success in Redding, my summer employer informed me I needed to head to Vegas a month early to audition! This, after having worked for them several years. I can't imagine I can duplicate these earnings in Vegas, but I can only hope.
Tire Trouble : My tires are mis-matched and kind of in a bad way. I started to lose control leaving Redding and now realize I need to over-inflate them — at least until I get them replaced.
Smashed into Redwood : Despite wrapping my home around a tree, it actually suffered less damage than my ego!
Leaf Spring Kit Punctures Coolant Hose Pt. II : It happened again! The leaf spring kit had to come off. Unfortunately, Les Schwab would only cover part of the costs this time, as I had to make up the difference in extra parts and labor. This also cost me a week-long delay at a $70/night campground here in Lodi!
While waiting on parts an extra day I was informed I couldn't extend an additional night because the park would be full for a special event. I had to move to another camp! I had the coolant hose repaired well enough to get me to the next park, Flag City, with no difficulty and had the repairs finished.
And Today, This Happened…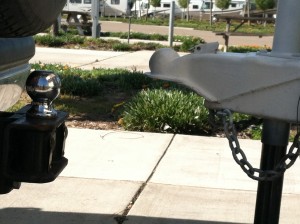 See the problem?  Now with more height on the rear end, the ball hitch is too tall.  To lower it would require tracking down a maintenance guy with the sufficient tools.  Minor delay.
BEE! (Reader-Discretion Advised, Violent Death Scene)
The second minor incident.  A bee.  I'm slightly allergic to stinging insects.  They make me very nervous.  So, yes…while towing a trailer I found myself swatting away.  When I first spotted it, I grabbed my sunglasses — quite possibly the worst bug-swatter ever.  I reevaluated and reached dangerously across the passenger seat for a ballcap.  And I whacked him good.  A real hard WHAP!
But that only gave him a concussion.  He landed on the dashboard and eventually rose again, a bit groggy.  I hit him again.  This time he fluttered down the dash out of reach.  I took off my seat belt and delivered my final "death blow."  This time he would lay on his back, submerged in his own "goo."  Gross.  But effective — right?!
Why were his legs still moving?  Oh, it's just that post-mortem exercise, right?  A few minutes later I decided that, incredibly, this poor creature was still fighting to stay alive despite his severed abdomen!  I couldn't watch any longer.  I nearly stood up to get one last whack at him.  Again, it was gruesome. But finally, it was over.
(I'll probably just throw that ballcap away).
But taking recent history into consideration, this was a fantastic travel day!  In fact, with sturdier 6-ply tires and the leaf springs, the drive was quite smooth.
"In-Town Country"
A Country RV Park is very much in town. It's in a poor neighborhood but does feel quite safe.  I'm particularly fond of the clubhouse.  Not only does it have a gym and a full kitchen; but also a sitting room loaded with books and movies.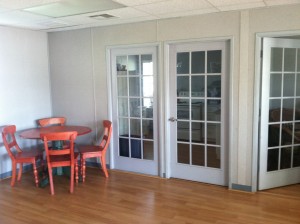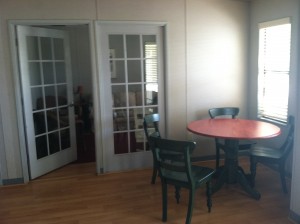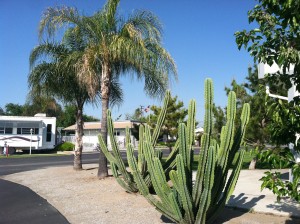 And as soon as I settle in, I'm off again tomorrow.  Destination:  Barstow.  If all goes well, I'll get to Vegas 2-3 days before my audition.