Current Venue:  Las Vegas, NV
Campground: The Hitchin' Post

Baker Grade goes by several names. It begins just east of Baker, California and, heading towards Las Vegas, makes a steady climb for nearly 20 miles! It's so notorious for breakdowns that it's a major testing ground for prototypes.
Of course, I didn't know this. I really had no idea what I was in for. Here's what I learned:
Sometimes a straightaway is anything but flat.  If you see lots of trucks in the slow lane with their hazards on, that's a clue that you're on a hill even when you can't necessarily see one.
If you see a sign that says, "Don't Overheat. Turn off A/C next 15 miles" …take it seriously! Of course, I'm the Rookie RiverCat — and I scoff at this suggestion when it's over 115 degrees out! But when my little 318 slowed to 35 miles per hour and the engine started to get hot, I rolled down the windows and turned it off. (I later learned that turning on the heater helps, too).
When you notice dozens of vehicles on the shoulder overheating — especially small cars — take it seriously and watch that temperature gauge closely! I have to admit, my engine was too hot to continue my ascent. I should have just pulled over, let her cool down, and started over in low gear. "But I was agitated and stubborn. I took an unnecessary risk and barely got over the hill at 13 miles per hour. I barely made it.
As Las Vegas was setting record highs for the month of April, I was still frazzled by my Baker Grade ordeal and managed to jump a curb when I pulled into The Hitchin' Post! Just to top things off I also had a mishap when I was hastily unhitching. I was just determined to do some damage on this day.
The Hitchin' Post
Finally, I started to settle in…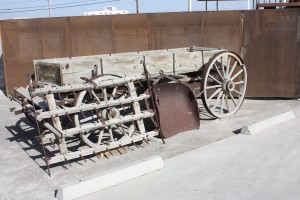 This campground has a lot to offer : A swimming pool,  restaurant/bar on premises, 2 dog parks, golf facilities, a spacious air-conditioned laundrymat with complimentary computer services, and satellite TV with four HBO channels.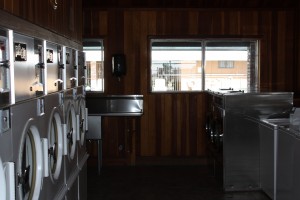 Along with the laundrymat, the restrooms and showers are the best I've ever seen.  The pictures of these facilities don't do them justice.  These are sturdy, log-cabin-type buildings with well thought-out benches and "cubbies".  It's very rustic and clean.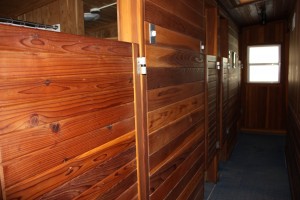 Terrific guest service, awesome monthly rates, and wonderful rustic (and clean) facilities.  I really, really like this place.  So why move?  My summer job will likely to be over 40 minutes away by scooter, it's not close to my gyms, and it's right next to an air force base.  That's right, from about 8 am until late afternoon, there are earth-rattling fly-byes about every 90 minutes.  And you know what — the resort is so nice, nobody minds it — this place is packed!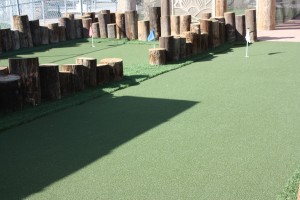 I can certainly stay here in the interim, until I land my job and find the appropriate monthly.  I couldn't have landed in a more suitable  campground as I prepare for my audition.  It's easy to stay out of trouble here with my movie channels and distant proximity to The Strip.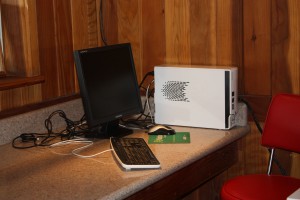 Having to audition for the World Series of Poker this year, I can't even say with 100% certainty that I have a job lined up.
And despite earning nearly $60/hr this year playing poker, I still can't justify the risk after this disastrous April of repairs and expensive lodging.  At this point I'll sit down and figure out how to stretch my money one more month and just lay low.