Current Venue:  Lodi, CA
Campground: Stockton KOA
Day Trip:   Isleton, CA
First, let me introduce you to base camp.  Directly across from my site are some wonderful weeping willows and the dog park.  Jeepers had a terrific time here Wednesday and I finally, FINALLY got a decent picture of him!
The pool comes complete with water guns, a slide, and a hot tub you could swim in.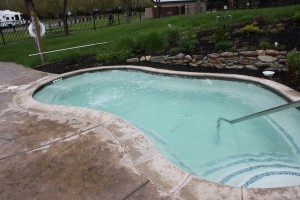 This KOA is wrapped around a large marina with an ice cream shop, a general store, and a restaurant.
There's even a modern-day dishwasher…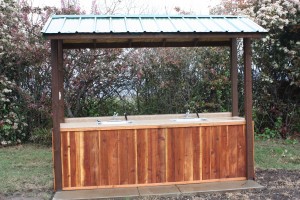 I wound my way around a narrow highway to a small town called Isleton last night to find out poker at the small clubs there had been discontinued on weeknights.  So, I had a nice stroll, instead.
Next to one of the poker clubs, I was surprised that, at 6 in the evening, I'd find a small leather shop still open.  I wandered in, only half-hoping they'd be able to repair my watch band.  Not only did they make me a new band, but at a very reasonable rate, I might add.  Jim and Janelle invited me in for conversation and a beverage while I watched — small town hospitality at it's finest.  If you're ever in Isleton, California, be sure to drop by Awl Leathered Up for your custom leather needs.  Tell 'em The Ramblin RiverCat sent ya!
Here are a few other little gems from my evening stroll…
Last but not least, some classic road sign confusion…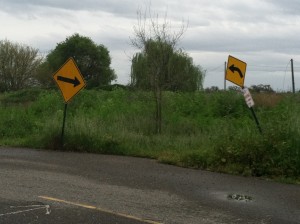 Next Story: Dusk at the KOA