Click Any Photo To Enlarge! " * " Denotes A Definition Available on the Common Terms Page
Current Venue:  Tempe, AZ (Phoenix Area)
Campground: Tempe Travel Trailer Villa

The other day I finally bit the bullet and took Memphis Red* in to get a look-see.  She hasn't been running well for nearly 3 months.  It's been hit-or-miss when trying to start it up.  And, if I had any trouble starting it, I knew she'd die 2-3 times  just getting out of the parking lot and at least once slowing down to a stoplight.  This has been a recurring and misdiagnosed condition for the last couple years.  The problem has been that garages could generally treat the symptoms with expensive tuneups and I'd be satisfied for a few months before it started all over again.
This time I just had a "feeling" about this garage across the street.  For months I actually thought it was an abandoned building and I guess part of my reasoning for taking the van there was that I could get a break on the diagnostics fees.
$25.  Not only did I get a break on the diagnostics, I got to speak directly to the person that would be working on my vehicle — the owner.  This is the way it has to be for now on because something always gets lost in translation if I don't speak directly with the mechanic from the very beginning.  It's my new rule.  And how did it go?
Well, the issue that has probably cost me nearly $2000 in those expensive tuneups seems to be resolved.  You see, because he spoke with me directly, he recognized it was an idling problem and found a bolt that was compromising the fuel injection.  He managed to move the bolt a bit and put some tape on on the it for a softer cushion and, would you believe it — he seems to have fixed the issue for all of $25!
The curtains had to go.  I need to save money by staying in a lot (with the exception of all the upcoming spring training games).  Therefore, I need to feel comfortable in my own home.  The only thing bothering me?  Those water-and-cat-damaged blinds.
I picked up a bunch of fabric at wholesale — my teal color and some blackout fabric.  I cut and mounted them myself.  It's "crude" but it pleases me a great deal.  It's simple and practical.  No longer are my counters clutter with bulky shades or the folds of traditional curtains…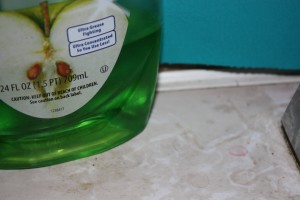 The simplicity of this system allows me to use my creativity.  Yes, that's a blackjack felt…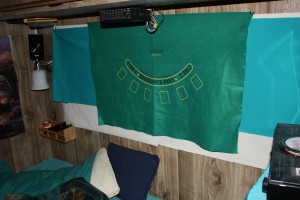 Or the bottom curtain rod in the bathroom that wouldn't allow me to clean behind the sink…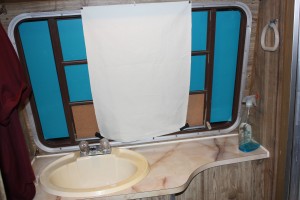 I went with a blue sticky vinyl to cover a large portion of the bathroom windows and then a curtain in the middle.  I had a bit of challenge with the back wall being slanted inward towards the ceiling.  But I eventually came up with this solution:  securing clips to the bottom that fasten to the window mechanism.  Perfect…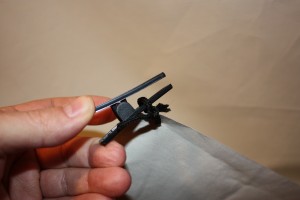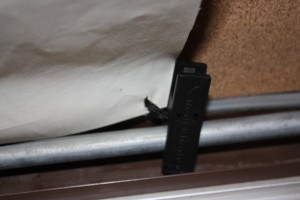 But what I'm most thrilled about is GLITTER TAPE!  I found this wonderful product in the crafts portion at Joanne's Fabrics.  Awesome.  In the beginning it was only an experiment in sort of framing my pictures…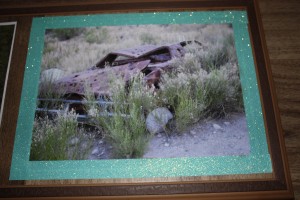 But as it turns out, the adhesive on this tape is incredible!  This stuff has some serious integrity and, before long, I was laying in bed plotting everywhere in my home that I could use it.  In fact, this attractive tape is so sturdy, I'm seriously considering using it as trim around some of my outdoor fixtures where the caulking tends to attract dirt.
I could get really carried away with it.  And, being it's on sale for half-price at the moment, I will have to go pick up some more today.  But alas, I do need to slow down with the glitter tape obsession — I need to get back to work on my projects…