Current Venue:  Tempe, AZ (Phoenix Area)
Campground: Tempe Travel Trailer Villa

Click Any Photo To Enlarge!    " * "   Denotes A Definition Available on the Common Terms Page
Today was a tough emotional day for me.  My meeting with the trade show guys went well enough despite the eccentricities of one of the partners that is making it more difficult that it needs to be.  The good news is, they definitely seem interested in moving forward with me.  The bad news is the eccentric one just nixed two of my days off to go work at a kiosk to practice assembly of the product — very unnecessary — but I bit my tongue.
All this trade show talk led to several references of the days I was working a lot of shows a decade ago — when I was with Michele. These memories sent me into a downward spiral the rest of the afternoon.
But when I say I had a tough emotional day, I also mean to say I bounced back!  Here was the setting…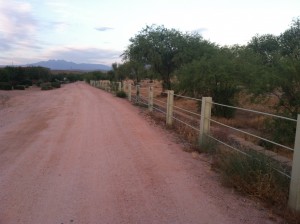 A rural country road?  Nope.  Believe it or not, it's a maintenance road just behind the resort at Ft. McDowell Casino.
I had a good meditation at the resort.  I sorted through a lot during this gorgeous desert evening.  A lot of this was about acceptance.  I think it's been over 6 years now since I lived on the road with this once-incredible partner.  And, as much as I like to deny it, I'm still hung up on what we "had."  Ever since then I still get bored and disinterested in dating very quickly.
My initial "plan" was to be totally over it and have a 100% healthy outlook on life before shoving off on The Ultimate Journey.  But why?  I think that's my ego talking, "You're running.  You'll just be pretending life is perfect!"
But why do I care if The Journey provides me with certain stimulus and pleasure in everyday life to help me cope with the pain of this heartbreak?  Should I be embarrassed by that?  Why not use The Ultimate Journey as a tool in the healing process?  Sometimes only time can heal — and what better way to pass the time than this?!
I ended the evening in good spirits.  I played a little $10 poker tournament and had some laughs with my neighbors.
I needed that.
It's hard to believe that may have been the last opportunity to play poker here before shoving off!  Incredibly, despite having played very little this year on account of my financial distress, I've made well over $1000 in the few hours I have  played (and needed every penny I made).  And, while I don't think I'll ever rely on the game completely again, the fact remains that I was able to support myself as a full-time player for nearly 5 years and supplemented my income all but one of the remaining years as a part-time player.  I have a sneaky suspicion it'll supplement my income quite nicely in years to come…
It's one of the many exciting possibilities in my future.