Click Any Photo To Enlarge!
Where I'm At: Reno, NV
Campground : Silver Sage RV Park
Day Trip : San Francisco, CA
My football loyalties have come full-circle over the years.  I grew up a diehard 49ers fan, idolizing Joe Montana and Jerry Rice. Then, when I was living in Charlotte, I quickly became a big fan of the new expansion team, Carolina Panthers.  But now that I've been out west for a few years I've been sort of torn between the two teams. My trip to Candlestick Park would seal the deal.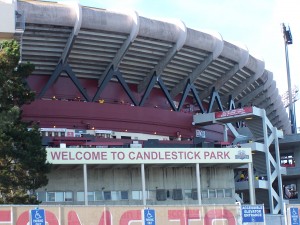 I get to thank my friend, George, for bringing me. At 85 years old he's got a ton of energy. Here he is striking up a conversation with another long-time 49ers fan before the game…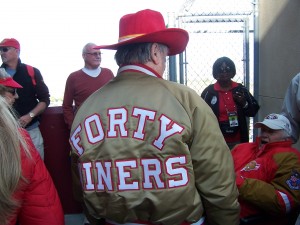 It was perfect football weather. I enjoyed every bit of pre-game warmups, just soaking in the sun and enjoying the cool breeze. George shared a little bit about his football career. It turns out he was a backup quarterback on the legendary California Golden Bears team in the 40's that won 30+ straight games and went to 3 straight Rose Bowls!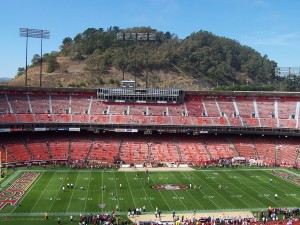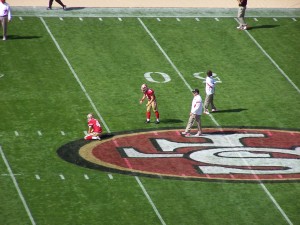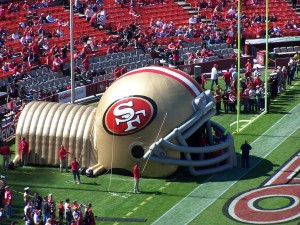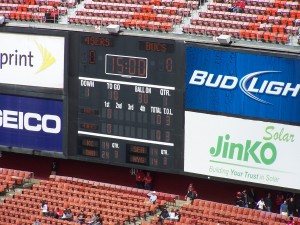 The score didn't stay 0-0 for long. The 49ers defense destroyed the Buccaneers in a route, 48-3 ! Alex Smith and Frank Gore led the way on offense as I did my part in screaming myself hoarse. It was a perfect day.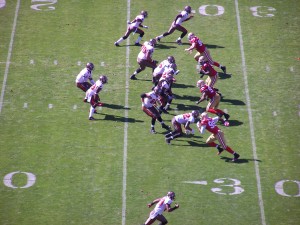 I intend to make sporting events a big part of my full-time RV journey.  Baseball, basketball, football.  Pro, college, high school, little league.  I just don't care — as long as the grass is green.