The conversion is complete.  I grew up an avid 49ers fan, idolizing Joe Montana and Jerry Rice.  I then followed the Carolina Panthers for more than a decade when I lived in Charlotte.  But now I've been out West for about 4 years and, little by little I found myself becoming a 49ers fan, again.  I deserted the Panthers last year and have become a full-fledged San Francisco fan, again.  But I have to admit, I've still felt a bit "torn."  After today, there's no doubt — I'm back on board with the 49ers.  (Think they missed me?)
I have to mention my travel partner.  George was a legend in his day.  Back in the dinosaur ages, he was quarterback of the California Golden Bears.  Get this — he led them to 39 consecutive regular-season victories (undefeated).  All 3 years, he lead them to The Rose Bowl (lost all three).  Quite an amazing accomplishment, if you ask me.  George passed on professional football, however, and has had a very successful career as a building contractor.  Perhaps equally amazing is his stamina at age 85.
Here's George (standing) chatting with another war veteran — two very enthusiastic Niners fans: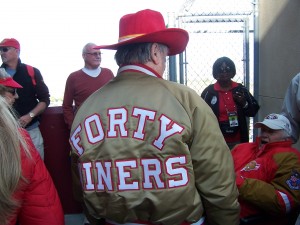 Oh, but there's more!  My first trip to Candlestick Park in San Francisco…
The 49ers would defeat a solid Buccaneers team 48-3.  Additionally, Frank Gore and the 49ers defense were both instrumental in getting me my first Fantasy Football victory of the season.  A terrific day for the Ramblin RiverCat!
I intend to make sporting events a big part of The Ultimate Journey.  Baseball, basketball, football.  Pro, college, high school, little league.  I just don't care — as long as the grass is green.
Next Story: Wipeout!