Click Any Photo To Enlarge!    " * "   Denotes A Definition Available on the Common Terms Page
Current Venue:  Tempe, AZ (Phoenix Area)
Campground: Tempe Travel Trailer Villa

Since taking on the Jesco project, I've barely had time to breathe.  Even on my day off, I found myself going to a mandatory meeting at the poker club all the way on the other side of town.  After the meeting I decided to stop halfway and work on some things at a coffee shop in a nice outdoor shopping mall.  After I got a bit done, I walked outside into a beautiful desert evening and a terrific scene:
Outdoor fireplace, dancing fountains, palm trees, and plush seating.  I couldn't resist — it was time to take a few minutes and breathe.  By the time I was done "doing nothing", I'd taken my shoes off and was listening to the sounds of the children playing in the fountains with their buckets.  I kept thinking what a shame it's been that I've been in Phoenix nearly 8 months and had done very little of this sort of things — have a $2 cup of coffee and just relax outdoors.  Phoenix really is a beautiful city…
That's when I decided it was time to capture this memory.  Here's the first photo I shot…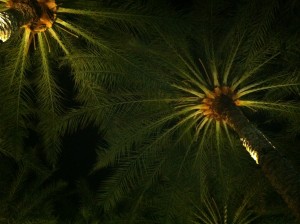 But as beautiful as the evening began, I'm afraid it took a disturbing turn.  I proceeded to take a picture of the fireplace, and then — the fountains.  Almost immediately, as I was putting my iphone away, a father came up to me,
"Excuse me, are one of these your children?"
I was taken aback by the question and explained that no, they weren't.  He proceeded to tell me that it comes across as "creepy" that I'm taking pictures of children.  I told him in very clear terms what my intentions were and that the conversation was over — not in a rude or defensive way, but very firm.  When he started to object again I waved him off and he gathered his kids and left.
Wow, really?
First, I want to preface this by saying I "sort of" understand parents concerns about strangers taking pictures of their children.  But not really, not this particular situation.  First, we're in a public place where there are many children.  Second, we'd never see each other again and it's not like I'm taking photos of their child in their back yard or at their school where there is a lot of familiarity.  Third, I have no earthly idea what a "creep" might do of photos of children playing in fountains — again, in a very public place. Perhaps a parent can enlighten me, I don't watch the news much…
Not knowing exactly what the problem is, I can only share things from my perspective…
I'm enjoying a nice evening.  I first took a photo of the palm trees above me, the nearby fireplace, and then the children playing in the fountain.  Why?  To capture a memory.
After searching the internet, I know that this is my right.  Yes, even though I'm a single man I do not require anyone's permission to do this.  Children are rarely the subjects of my photographs —  but when they are you'd better believe it's an unusually beautiful scene capturing their beauty and innocence.  And, 2-3 times per year I may just want to hold onto a moment like this — and I will.
Parents, do what you must to protect your children. If you really see suspicious activity, gather your children, call 911, whatever you need to do…
But please exercise a little logic and tact.  When a man takes a picture of a fireplace, a palm tree, and a fountain — he may just be doing just that.   Walking up to that person and calling him a "creep" is probably not the best way to handle the situation.  In fact, you just profiled a person based on gender and relationship status.  And you probably offended him deeply.
I'd like to end this post on a positive note.  This photo was taken without permission a few years ago.  In fact, it's one of my very favorites and has been an 8 x 10 on my wall for a very long time.  It cheers me up in the morning and makes me chuckle!  Let me set the scene:
I'm on the Oregon coast camping in the rain.  I get up early one morning to take some pictures and walk down this long path  to the lake.  I admire the walls of 8-foot shrubs on either side as I enjoy the sound of rain pelting on my jacket.  Near the end of the path I hear a young child's voice.  Jibber-jabber, jibber-jabber…she's telling a story.  At the end of the path there's a clearing, and this is what I find…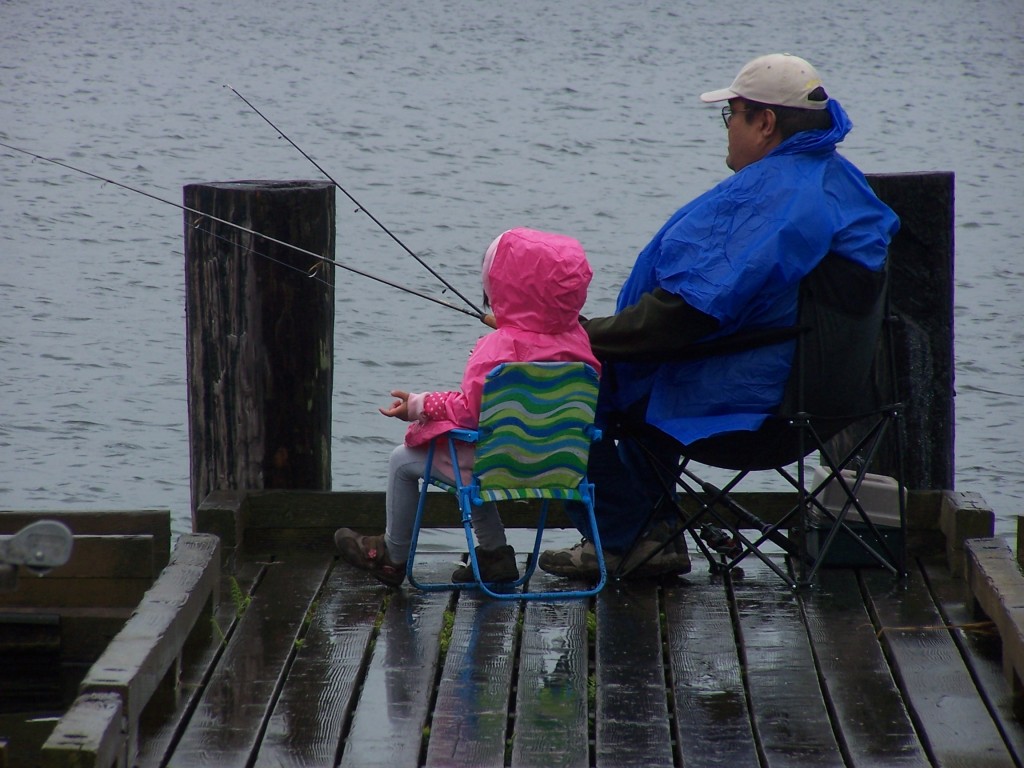 Notice the child's left hand as she discloses the full details of her story.  Her guardian is all grins.  They were in a steady rainfall and glad to be in it!  I'll never forget that scene.  It was beautiful, and I'm glad a have the image to reflect on it.