Current Venue:  Tempe, AZ (Phoenix Area)
Campground: Tempe Travel Trailer Villa

Click Any Photo To Enlarge! " * " Denotes A Definition Available on the Common Terms Page
I wasn't sure I'd make it to a Cardinals game this year.   When they began the season 4-0, ticket prices were outrageous.  But after they reeled off 9 losses in a row, I thought I'd try again.  It seemed fitting that in my fantasy league that Arizona was playing against my opposing quarterbacks, Matthew Stafford.  It was time to GO.
Tailgating is a little bit "different" in Phoenix. There's no real atmosphere in the parking lots.  It's more a high-end gathering in the nearby shopping complexes.  Saddle Ranch was my hangout.  I can't say it was very economical…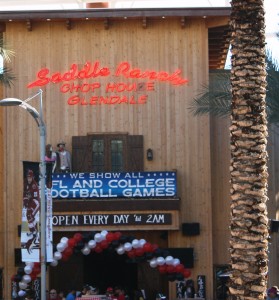 I can't say the mood wasn't festive.  But it was pricey.  And my fantasy team just wasn't performing at the time.  On to the stadium  A moment of silence for the young victims of the school shooting in Connecticut…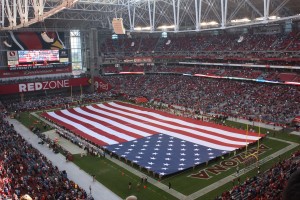 And then the football game.  First, a grandfather and a young fan…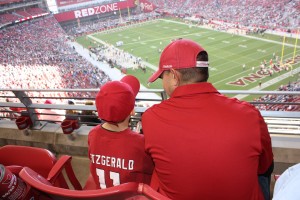 There were a lot of Larry Fitzgerald fans at the game.  The popular wide receiver was not a major factor in the game, however.  The Cardinals defense dominated the game against The Lions and their star quarterback…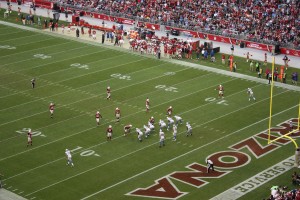 The Cardinals would snap their losing streak in exciting fashion, capping it with a 100+ yard interception return for a touchdown and winning the game 38 – 10.
As I'm seemingly biding my time in Phoenix, sports will tie me over, among other adventures.  Perhaps a Suns game and an ASU basketball game in January, and many many spring training baseball games in February and March.  Where I'll be in April is anyone's guess…