Current Venue:  Tempe, AZ (Phoenix Area)
Campground: Tempe Travel Trailer Villa

Click Any Photo To Enlarge!    " * "   Denotes A Definition Available on the Common Terms Page
With temperatures in the 100's this week,  preparing 48 Ugly* for travel again has been taking place during dawn and dusk rather during the heat of the day.  I began the yesterday trying to seal a couple leaks on the roof.  It's still a guessing game.  I've had these things narrowed down to specific patches for quite some time but I still can't find them visually.  Will this be the time I finally get em'?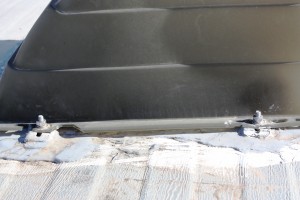 The rest of the morning I took inventory of all my cleaning products.  It turns out I had plenty and only needed to purchase some tire polish.
I then picked up my "lawn" shortly before a neighbor came by with a compressor to air up the tires.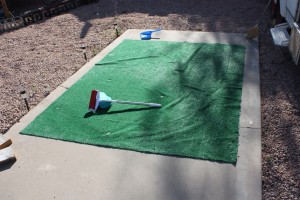 In the evening I began scrubbing down the rig.  I realize it's been over 15 months since I last did this, but I found myself a little discouraged with the grime that has collected around the caulking.  I want to apply a trim, or some sort of tape to cover up this unsightliness but I just don't know that this product exists.  Anyway, it's not like it was difficult to remove the grime with a little Goof-Off, but it was frustrating nonetheless.
Additionally, the "fender-paneling" that I had installed  a couple years ago is beginning to warp and stain — particularly around the hookups and fixtures.  Even despite most of these fixtures being less than 2 years old, I swear that whole back panel on the drivers side is getting too unsightly for my taste.  I'd really like to find a solution for this within the next year.  I do call her 48 Ugly, but it's still not to my liking…
This morning I reorganized the van.  My primary objective was to find a way to handle the poker table.  Without a carrying case, I worry that it will eventually get scratched or torn if I don't find some way to attach something to protect it.  Eventually, I found a way to attach a bedspread to it — a good temporary solution, at least.
Tonight I'll apply some more elbow grease to 48 Ugly.
I'm now debating if I'll get up to Fish Creek Canyon on Saturday.  If I go, I won't have any opportunity to rest before taking off on Tuesday (I work Sunday and Monday night).  I guess I'll determine how I feel tomorrow night…