Current Venue:  Tempe, AZ (Phoenix Area)
Campground: Tempe Travel Trailer Villa

Click Any Photo To Enlarge!
This is now my third day in Tempe, Arizona.  It is HOT.  Temperatures are exceeding 110 every day with 25% humidity.  That's a lot of humidity — at least for the desert regions I'm accustomed to!  All I know is that every time I step outside in the afternoon, my sweat glands start gushing.  But then, of course, you sort of get "used" to it.
My stay here had a strange beginning.  For whatever reason, rather than rely on my handy dandy GPS, I took down some very simple directions from the park manager.  Very simple.  Very, very inaccurate.  I have no idea what the miscommunication was but it was very clear my GPS wanted me to go somewhere else entirely.  But surely the park manager knew where she was located?
When it was obvious I'd been misguided, I let the GPS bring me home — nearly 25 minutes from where the manager had sent me!
But as it turned out, it was sort of a blessing.  You see, I still haven't gotten a good lesson in backing trailers (I'm still sort of saving that one for cooler weather).  This is the first necessary back-in on The Journey and I was misinformed that a maintenance man here could assist me.  Well, he tried to guide me, but it turned out neither of us knew what we were doing (he gave it a whirl and only managed to squish my spare tire against the propane tanks).  The reason I say getting lost earlier was sort of a blessing was that the timing was such that a neighbor happened to be walking back from the pool and easily navigated 48 Ugly into place.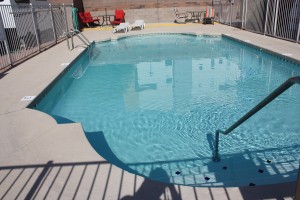 Nothing really agreed with me that day.  Another old park in the big city in a funky neighborhood (a la Las Vegas).  There's nowhere to sit and dry your feet in the showerhouse.  No cable.  No picnic table. No hot tub.  It's too hot.  It's nothing like my country resort in Salome…
But here's the weird part — yesterday morning I woke up with a brand new attitude!  It was overcast and sprinkling a bit when I rose, so me and Jeepers sat outside and let the pigeons entertain us.  I walked around  a bit and discovered that it's not an unsightly park at all.  Some of my neighbors were out walking their dogs and happened to be quite friendly and respectable-type citizens.  Then I started noticing all my wonderful surroundings.   It's amazing to me I wasn't even aware of these terrific palm trees the day before…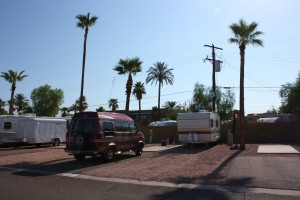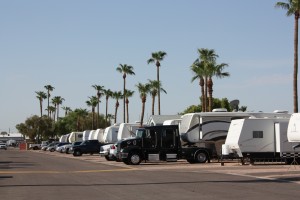 When I drove around later I discovered that I was also in a fairly decent neighborhood — with a police station right next door and all the trendy shopping centers just down the street…
I think my gloominess of the day before centered around the prospect of "slummin" it again like I did in Vegas after such a positive experience at the last park.  I was also projecting that I might need to stay in the big city a month or two to make the next leg of The Journey more comfortable financially — and I'm not quite ready for another long work-stint (particularly in the hottest region of the United States in August).
Awe, who cares!  I'll do what it takes and certainly enjoy it more than my gig in Vegas.  I'm already beginning to enjoy the "vibe" of Phoenix, I've located a Waffle House, and I intend to have a little fun with this…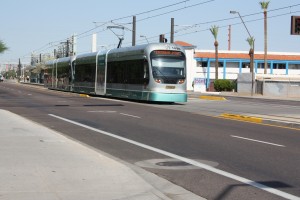 Light rail.  It's right in front of my park!  I briefly researched it and it seems it takes you right through the heart of Phoenix with plenty of sightseeing opportunities en route.  When my knee feels better…
Tomorrow a contact for a dealing gig in Minnesota is supposed to let me know whether or not she'll need me for an event in October.  If the news is good, I won't feel the need to make a certain amount playing here in Phoenix and can move on when I like and and escape this heat!  If I don't get the good news I may have to suck it up, pay for a month's rent, and grind it out at the poker tables for the next month.
If that's the case, I feel much better about it, now.  It would tell me a lot about my endurance as a poker player — and I need to do that at some point, anyway.  (Referring to my new low-risk/medium reward bankroll management style as opposed to my mid-high risk/high reward style of a few years ago).
Getting closer!  Will I see green grass or perhaps a midwest thunderstorm before the end of the year?  Stay Tuned!
Next Story: The $14,000,000 TV