Current Venue:  Las Vegas, NV
Campground: Riviera RV Park
During hotter days, my A/C has been tripping the circuit breaker an average of once per day.  But I had quite a scare, yesterday.  In a time-frame of about an hour and a half, it tripped 5 times.  Uh oh.
I realize I wasn't supposed to keep resetting it and ignore a potential safety hazard.  But unfortunately it was 103 degrees.  The options are limited in these conditions (when the A/C goes out, you literally break into a sweat within seconds).  So, between resets I was desperately searching RV blogs for a miracle.  Incredibly, I found it!
I'd like to thank my new best friend Kirk for his post on Escapee's.  (If you happen to know Kirk and how to get a hold of him please tell him so.  I can't seem to find his  e-mail).  Anyway, Kirk mentioned something I wouldn't have thought of in a million years — that if the circuit box is housed in a small compartment, the heat in that compartment could actually trip the circuit!  Really?  The actual climate could trip the circuit?!
Then a few light bulbs went off.  My box is in a very tight compartment in the bathroom.  The circuit has never tripped when I was away from home.  And then I had a sudden realization…the reason it only trips when I'm home is that it's the only time I shut the bathroom door!  You see, when my hyperactive cat overwhelms me a bit, I put him in the bathroom for a few minutes…BINGO!
Kirk's remedy for this problem is to keep the compartment door open and, if necessary, simply blow a fan on the circuit box.  As crazy as this sounds, it worked.
Initially I had to run the fan on it to cool it down, but since then I've been leaving the compartment door slightly ajar (propped against Jeepers' food dishes), and I haven't had any problems.  The highs in Vegas have been consistently around 105 for the past month.  But in July there will probably be heat waves approaching 120.  I may have to consider removing the compartment door entirely when this happens.
IMPORTANT NOTE:  I really hesitated to provide a photograph of this one, but I feel it's my duty as a responsible blogger.  Yes, the floor is filthy.  Things "scattered"  as this story developed and, because I'm still in my bathrobe, I'm not gonna' tidy up just yet…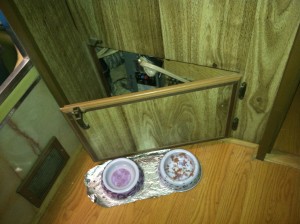 Next Story: Home Stretch