Click Any Photo To Enlarge!
Where I'm At: Redding, CA
Campground : Sacramento River RV Park
I'm staying another week.  Why?
I discovered my very own little nature preserve…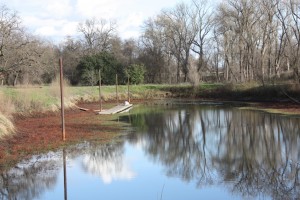 Here's a little cove off the Sacramento River with a dilapidated pier.  I have aspirations of setting up my folding chair and a good read on that pier when things dry out a bit. (It's supposed to be in the 70s the next few days).  Here's the playground…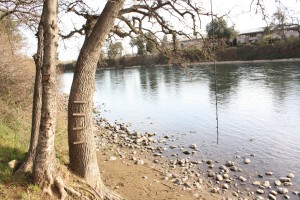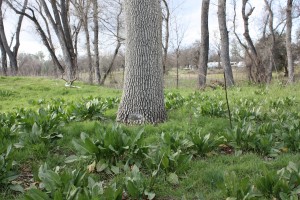 Here's my quiet-hideout-of-the-day.  I did a bit of reading at one of these picnic tables overlooking the river.  The couple on the golf cart were the only other humans I'd seen on this grassy trail for an entire 2 hours.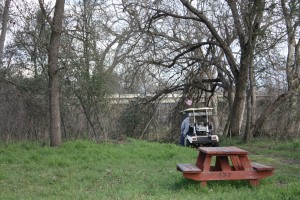 I think I'm going to have a good week here in Redding.  I have it all, really — a nice little piece of real-estate, some upcoming warm weather, an opportunity to make a wage at the local poker rooms, and plenty of siteseeing opportunities.  Maybe I'll even get a bit of work done!