Current Venue:  Tempe, AZ (Phoenix Area)
Campground: Tempe Travel Trailer Villa

Click Any Photo To Enlarge! " * " Denotes A Definition Available on the Common Terms Page
I was feeling a little blue on New Year's Eve  — but was then reminded of the New Year's Eve party the park was putting on.  It was an outdoor affair and, being it was one of the coolest evenings of the year (high 40's?), I almost didn't go.  But I just couldn't resist the smell of firewood.  Why not.  After all, it was the last day I was allowing myself to eat poorly, at least for awhile.  Perhaps I'd find something really bad for me…
Meatballs dripping in thick barbeque sauce, pizza, and some delicious gooey popcorn balls.
I sat by the campfire and chatted with one of my favorite neighbors — one of many residents  here from my home-state of Illinois.  In fact, he grew up not far from some of my cousins in the Carbondale area!  Herb's retiring soon and hitting the road again in a few months with his wife, Debbie.  Super-nice couple.  Coincidentally, Herb happened to be working in Laughlin, Nevada the year I worked a summer there as a poker dealer!  Small world.  Well, we traded a few stories of our memories there and then…
The excitement began…the gift raffle/white elephant exchange.  I was fortunate enough to have my ticket called early and got to select the prize I really wanted.  I wasn't about to have it "stolen," either!  I high-tailed it out of there.  (Is that cheating)?  And here is my new center-piece…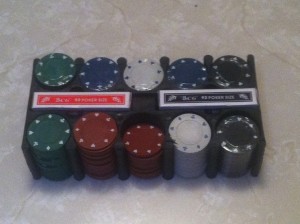 Suits me, right?  Actually, this is coming in quite handy.  I've been simulating blackjack money management and betting strategies for nearly a month now — and every time I had to break out my heavy metal briefcase-style chip set.  This desktop version is much easier.
It's hard to believe I'm actually considering adding this game to the my strange mix of income streams!  But if I "grind" at this in the same manner I play poker, I estimate I can supplement my income about $500 per month.  I didn't actually think I'd get the opportunity to try my new system for another month, however.  I knew the only way I could possibly justify the risk was to try a few small buy-in poker tournaments and see if I could win one.  So…I went to the casino and defeated 60 players to win my first tournament of 2013!  I then won my first blackjack session of the year.  Perhaps it's a sign of good things to come…
It seems I'm actually on the verge of leading my first bus tour this weekend, as well.  And the financial adventure continues to unfold…
It's been nearly a year now since my former employers caught wind of my departure and dismissed me two months premature.  More than $10,000 short of what I'd intended to take with me on The Ultimate Journey and more than a little nervous Memphis Red couldn't get over the Sierra Nevadas, I made it to Redding, California and "made bank" at the poker clubs there for a few weeks while staying at a wonderful campground on the Sacramento River.
I then burned through an extraordinary amount of money "rushing" down the California coast to get to my audition in Las Vegas.  Breakdowns, stranded at expensive campgrounds, mediocre results at the cardrooms.  I realized quickly I was going to deplete my resources.  And yet, in a melancholy sort-of-way, I enjoyed the sensations of this, The Movie of My Life.  I knew that, in overcoming the challenges of the first leg of The Journey, I'd only appreciate it ten times more later — when I figure out how to do it "right."
I made it over the infamous Baker Grade, pedal to the floor, 12 miles per hour.  I limped into Vegas and watched my dollars stretch even more as I waited an excruciating 6 weeks before my paychecks started kicking in.  I was "slummin" it.  Two months later, job complete, I started doing well at poker again.  And yet, again — I left!  (In retrospect, I probably never should have left Redding).  Well, after all, I was supposed to be on The Ultimate Journey, seeing the country!  And I'd been in Vegas 4 months already. Time to go…
Going on 5 months in Phoenix now.
No, I'll never forget 2012.  A bit of traveling, but more of a financial journey to be sure.  But I'm actually beginning to appreciate these experiences for what they are — these "misadventures" are still adventures, nonetheless!  I'll figure this out.
For now, it's still looking like Vegas for the summer, again.  In the meantime, I'm going to test the waters here in Phoenix with my latest business idea.  Back to the drawing board!