Current Venue:  Sacramento, CA
Lodging:  Motel 6
(RV is still in Redding)
This is how all the fun started yesterday…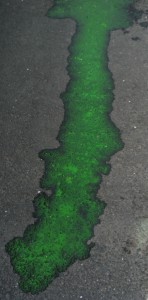 Yep, I got the van loaded, had Jeepers sedated, and was ready to hit the road…and there it was — a rather fast coolant leak coming from the rear.  It ended up being a day-long ordeal.  Why did this happen?  It turns out my leaf spring kit was installed rather carelessly and a bolt securing them ruptured a hose that runs the length of the vehicle.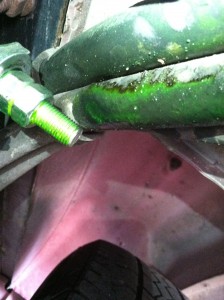 Kudos to the folks responsible, however.  They promptly apologized and are issuing me a check for the $400 repair in just a couple days.  And, truth be told, after the costs are reimbursed, I actually came out ahead.  As an added bonus, if we hadn't been stranded, I wouldn't have found myself at Thunder Valley Casino earning a decent wage for the evening.
Tomorrow I'm going to make a stop in Chico on the way back to Redding.