Current Venue:  Tempe, AZ (Phoenix Area)
Campground: Tempe Travel Trailer Villa

Click Any Photo To Enlarge!
The power of the internet!  These days you can go to a discount ticket outlet, purchase a ticket, and print it within a matter of minutes!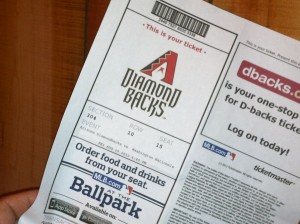 And, if you happen to have a train right in front of your RV park, you don't have to bother with finding an expensive parking spot.  Cost for an all-day pass on the train?  3 dollars.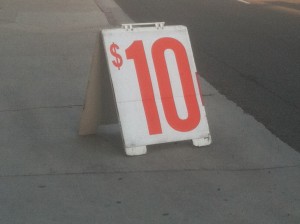 And it happens to run right in front of the baseball stadium here in Phoenix…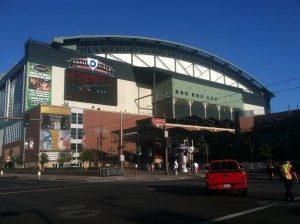 Of course what ballpark would be complete without a pool and a hottub?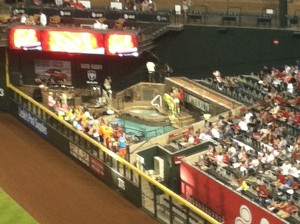 Oh yeah, and let's not forget about baseball.  Tonight's matchup?  The young Washington Nationals phenom Stephen Strasburg against…somebody on the Arizona Diamondbacks.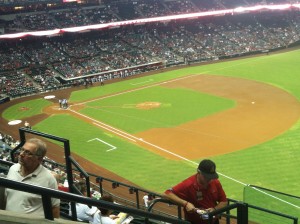 Did I mention Stephen Strasburg?  I told my brother-in-law I was going to see a no-hitter tonight.  It was through nearly 5 innings but Strasburg did give up one hit.  In fact, the Diamondbacks already seemed deflated by the time Strasburg was pulled out of the game — and the rest of the contest was actually rather dull.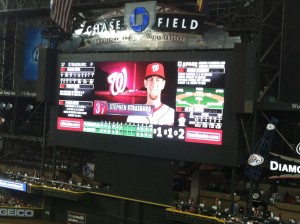 I was very impressed with the stadium, though — particularly the most magnificent scoreboard I've ever seen.  The big screen is 136 feet by 46 feet and is in high-def.  There's only 2 other similar to it in the nation and the quality of the videos are out of this world.  Back in 2008, it cost $14 million.  Yes, a $14,000,000 television!
The two lineup scoreboards to either side of the big-screen were pretty cool, too.  They were very large and always had highlighted who was due up next in the order.  Between the 3 boards, it was just an incredible wealth of information.  Very impressive.
The Diamondback, of course, are named after the most venomous rattlesnake in North America.  Their mascot?  "Baxter the Bobcat."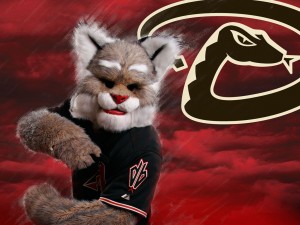 (courtesy of baseball-wallpapers.net)
Next Story: Monsoon