Current Venue:  Tempe, AZ (Phoenix Area)
Campground: Tempe Travel Trailer Villa

Click Any Photo To Enlarge!    " * "   Denotes A Definition Available on the Common Terms Page
Saturday night I met one last time with Jim and Sandie at a Mexican restaurant.  They're leaving two days after me, heading to New Mexico, Colorado, and Montana.  I'm thrilled that they're heading to the Oregon coast later this fall!  My plan is to make the Oregon coast my final destination in my first tour of the U.S. in this rig.
I took my friend, Mary Lynn, to dinner as well.  As with my parents, I have no idea how I would have gotten through this rough patch without her — she's my pet-sitter.  Incredibly, the day my doctor sent me straight to the emergency room, I made a pit-stop at the park office desperately hoping the manager knew someone who could take Jeepers.  Unbelievably, within 20 minutes, Jeepers was safe and sound with Mary Lynn.  She would also become instrumental in caring for him about 7-8 days out of each month since then while I worked 14-hour shifts at the poker club.  With his special needs, there's no way I could have worked those types of shifts and earn every penny of that necessary income.
It turns out, she's a master storyteller!  A very funny lady.
Mexican isn't normally on my low-carb diet — and it's a good thing I allow myself to deviate once per week. It was deeeee-licious.  This is more par for the course…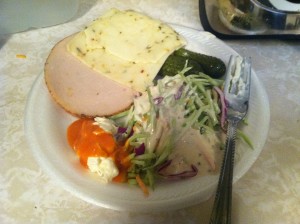 Smoked turkey slices, jalapeno-jack cheese slices, mayo and hot sauce for dipping, broccoli slaw with bacon ranch dressing, and a pickle.  About 6-7 carbs, in my estimation.  These diets can get boring, at times, so you do have to get creative.
I leave tomorrow!  After being stuck for 8 months, it almost doesn't seem possible.  Guys wish me luck on the next chapter of this journey.  I can't think of many ways for Year One to have gone  wrong (aside from that first month in Redding).  Maybe that means all the peril is out of the way, right?
I'm going to try my hardest to only stay one evening in the Quartzsite area.  It's such a terrific campground.  I think I'll manage to resist, though — being very eager to finally revisit the Laughlin area with the option of possibly 3 nights there.  There I plan to revisit some of my old haunts and return e-mails to lots of the bloggers that responded about my new website.
That won't leave me much time to get settled into Las Vegas…
It will be an interesting summer, I think.  After guessing about where my meager savings will be after I pay my first month's rent and not getting a real paycheck until mid-June;  I'm going to have to lay very, very low for a couple weeks.  I anticipate getting very focused on my projects and building my business, hanging at the swimming pool quite a bit, and finding some hiking trails and parks on my days off.
In July I should be able to supplement my income with poker again and enjoy a few casino buffets and amenities.  But it won't be my normal experience of Vegas — especially minus the convenience of scooting around town on Crash-Test Dummy.  (I think those new wheels won't be in the budget until 2014).
I'm getting ahead of myself.  Right now I need to make a pit-stop on the way to work.  I need a new litter box for Jeepers' travel kennel.  It seems a recent windstorm must have blown his last one away.