Current Venue:  Sparks, NV
Lodging: Courtyard at Isquaga's Nugget
(RV is still in Redding)
Before I continue my RV journey, I have a little side-trip to Reno to test a trade show concept : Basic poker training for beginners with a little mini-tournament. I would have no idea if it was going to be a hit or total miss. My target would be a large women's expo. Here's an account of my adventure…
Wednesday March 28 : Flush and Run

The mountains were an adventure:  Dense fog, rain, snow and ice patches, and darkness — not ideal conditions for a RiverCat with bad night vision.  But we made it!  I checked into the Sparks Motel 6 around midnight.  It's been over 4 years since Jeepers has stayed in lodging like this but, as a former Motel 6 veteran, it was fun to see the instant recognition and approval.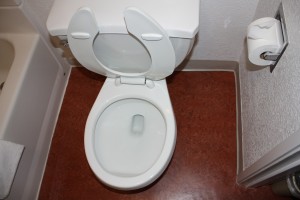 It seems every Motel 6 I've ever stayed at has had outstanding water pressure.  This particular room has a toilet that is particularly fearsome.  In fact, Jeepers is quite terrified of the WRRRROMPHHH sound it makes when I flushed it. The toilet was so violent, it splattered — therefore I quickly learned the execution of the "flush-and-run."
Thursday March 29 : Errand Day

After dropping off Jeepers at the petsitters' I visited my new friend, Holly Riley.  Holly is just getting ready to publish her second book.  I just read her first one, "Allowing" — an amazing spiritual journey and unbelievable exercise in forgiveness.  Her true story is a real page-turner and very inspirational.  Holly teaches you how to make your dreams reality.  I'm very grateful for her "allowing" me to borrow her chairs.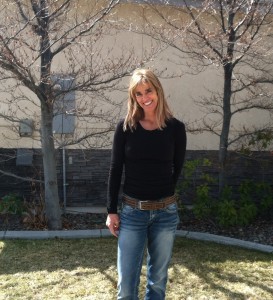 I then switched motels, opting for the adjoining motor lodge to John Isquaga's Nugget. It's in need of a little upgrade, but I have access to all the amenities at the main resort.
Friday March 30 : Setup Day

Setup went fabulous.  I couldn't have asked for an easier one.  First, I checked into the staging area.  The bulk of my booth was the table and ten chairs, which was no trouble at all.  The table provided by the decorator surprisingly fit in the booth, so I didn't have to purchase any additional fixtures.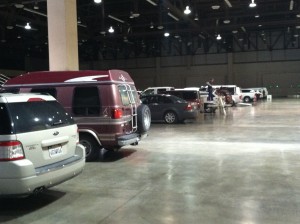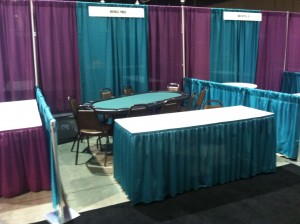 Saturday/Sunday March 30 and April 1 : It Doesn't Hurt as Bad When the Help is Cute…

The first couple hours of the show were a blast! The fact that this group pre-registered on-line had me feeling pretty optimistic. The presentation went smooth, the tournament was fun, and my participants swore they were going to spread the word what a great time they had. I couldn't help but feel the show would be a success.
But it was not to be. Despite our efforts and constant adjustments, we simply couldn't lure another group to try it. Either Reno is the wrong market I simply don't have a desirable product. Aside from a few leads for private parties, this showing was a complete flop. The only silver lining was my fantastic assistant.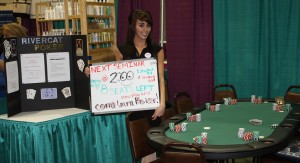 Despite the discouraging conditions, Gabriela kept her chin up and kept right on pitching the seminars for 2 straight days. I even offered her the opportunity to bail after Day One, but she was quite willing to stick it out. I was happy to pay Gabriela a full two-days wages for making the situation bearable.
Win some. Lose some. Back to the drawing board!