Current Venue:  Sparks, NV
Lodging: Courtyard at Isquaga's Nugget
(RV is still in Redding)
Here's a 5-day journal of my Reno trade-show odyssey.  See it unfold from beginning to end…
Wednesday March 28
Unexpectedly, I had to leave a night early…or so I thought.  In my haste, I managed to leave behind my trade show packet, but otherwise I think I got everything.  During a pit stop in Sacramento, I found out my early departure was unnecessary so I considered the idea that I might stay there and play at Thunder Valley.  However, the closest pet-friendly motels were a half-hour away from the casino.  I checked in on Jeepers' sedated state to determine if I could get another 2-plus hours of drive-time out of him, and decided to press forward.
The mountains were an adventure:  Dense fog, rain, snow and ice patches, and darkness — not ideal conditions for a RiverCat with bad night vision.  But we made it!  I checked into the Sparks Motel 6 around midnight.  Jeepers, a Motel 6 veteran, was thrilled at being able to once again snoop the once-familiar room.  It's been over 4 years since he's stayed in one, but you could see the instant recognition.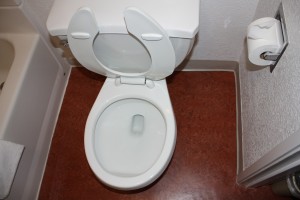 One thing you can never complain about at Motel 6 is water pressure.  They have that one figured out.  This particular room has a toilet that is particularly fearsome.  In fact, Jeepers is quite terrified of the WRRRROMPHHH sound it makes when I flush it.  The suction is so powerful that the trauma sometimes creates a small "splatter" if you happen to be standing over it.  I quickly learned the execution of the "flush-and-run."
Thursday March 29
Errand Day.  First I dropped Jeepers off at the sitters.  Then I picked up the chairs from my friend, Holly.  Holly is just getting ready to publish her second book.  I just read her first one, "Allowing" — an amazing spiritual journey and unbelievable exercise in forgiveness.  Her true story is a real page-turner and very inspirational.  Holly teaches you how to make their dreams reality.  I'm very grateful for her "allowing" me to borrow her chairs.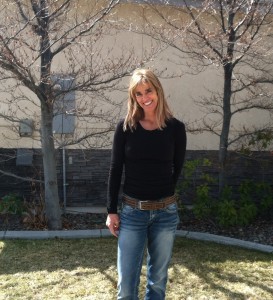 After I spent the rest of the morning doing more errands, I switched hotels.  I quickly found out I overpaid…
I chose this location because I didn't want to stay in Reno.  I've always loved this resort, and have stayed here on a couple occasions.  I wanted to feel like a tourist but not get too distracted with walking through the casino every time I went to my room.  That's why I chose the motor lodge — easy in and out, and all the amenities.
But this place is in serious need of an upgrade, I have to be honest.  It's comfortable, and it does have a deck — but it's slightly run down, and the smoking and non-smoking rooms are not segregated very well.  There was way more integrity at Motel 6 for half the price.
Terrific location though.  Not only do I have access to the main tourist attractions on the main drag, but also the pool in the main resort — which is where I spent the afternoon mentally rehearsing my mini-seminar.
I then had an early evening buffet using my comp points.  I was happy to see duck.  I've known people that simply won't eat the cuter creatures in the animal kingdom, but I love duck.  However, I simply couldn't get myself to eat a piggy strewn out in this fashion, couldn't do it…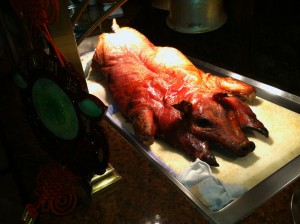 Friday March 30
Setup went fabulous.  I couldn't have asked for an easier one.  First, I checked into the staging area.  The bulk of my booth was the table and ten chairs, which was no trouble at all.  The table provided by the decorator surprisingly fit in the booth, so I didn't have to purchase any additional fixtures for my promo displays.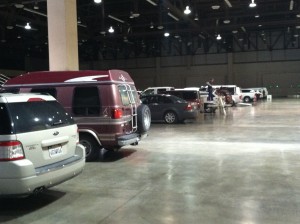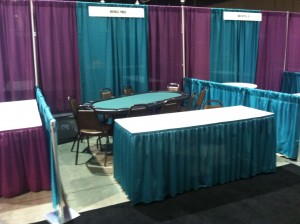 With some time to kill, I spent the afternoon rehearsing in Sparks.  It's a wonder I didn't spend a bit more time in this area when I lived here…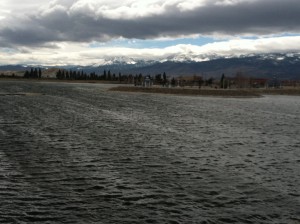 Saturday March 30
I'm afraid things haven't gone as planned.  In the morning I taught a small group who totally loved the presentation.  I expected upon the completion of the seminar, I'd have more signups.  Not so.  In fact, we didn't make a single sale the rest of the day.  It was a long day.
In an attempt to salvage things tomorrow, I'm going to eliminate the gift certificate prize pools, do some price-slashing, and try rearranging the exhibit so that the poker table is closer to the aisle.  I hate to do that because passersby could be right on top on some of my paying customers, but it's desperate times.  I'm just going to have to instruct my assistant to manage crowd control, if necessary — and I hope it's necessary at this point.
Sunday April 1
Unfortunately, the entire show would be a flop.  I'll probably try this venture again next spring.  I need a year to optimize the exhibit with additional products or go a different direction altogether with it.  Additionally, I need to find about 10 really good spiels or some free presentations to draw spectators into the booth.  I would also choose a non-casino venue where people don't already see poker, gambling, and casinos on a daily basis.
I did get several inquiries about doing private parties — like ladies night out.  If I could somehow coordinate several of these events to coincide with my arrival to different cities, it could be lucrative enough to be worth my while.
The brainstorm will start soon, I'm sure.  Right now, for the next few days perhaps, I may just lick my wounds.
Here's one last shot of my booth and my assistant, Gabriela.  I got to hand it to this young lady.  Despite the discouraging conditions, she kept plugging away the entire event — engaging everyone who walked by our exhibit.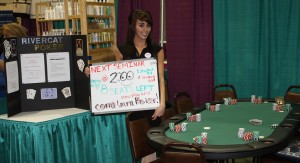 Next Story: Stranded !