Current Venue:  Kanarraville, UT
Campground: Red Ledge RV Park

Click Any Photo To Enlarge! " * " Denotes A Definition Available on the Common Terms Page
The trip through Southern Utah (and a sliver of Arizona) was a bit of a stress for Memphis Red* at times.  A couple of ascents were slow-going at about 40 miles per hour.  I turned the A/C off when I saw steep grades — and that seemed to help.  Only once did it appear the engine was getting hot.  I made it, but it makes me wonder what's down the road.  I still have a lonnnng way to go.
Consecutive Travel Days Without an Incident : 3 *
* A new record!
But besides setting the new record, I had a wonderful day.  First off, RAIN.  A nice, pleasant, steady rain with some thundershowers.  Second…thick, lush GRASS.  I'm finally out of the  desert!  At least for the moment.  It's amazing what a difference in 140 miles and a few thousand feet.  I'm in a different world, and I've so been needing this.  I had the windows open all evening while I did a bit of cleaning and laundry, enjoying the smell of campfires and cool breezes.
Kanarraville is populated by all of 300 people.   This is what you call a "rural" community, with tiny little city blocks and picturesque settings.  This is Main Street…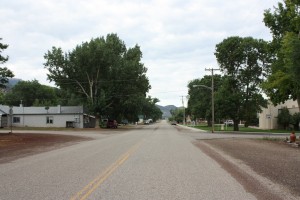 Here's the firehouse/post office…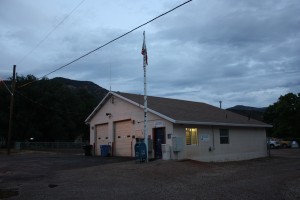 This is the llama/sheep…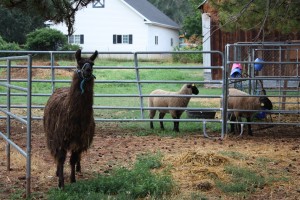 Red Ledge RV Park is tiny and quaint.  As far as I can tell, it is the center of town and may be the only place people can buy provisions unless they drive 13 miles to Cedar City.  It is very clear the owners love what they do.  Gail is extremely accommodating, thoughtful, and attentive.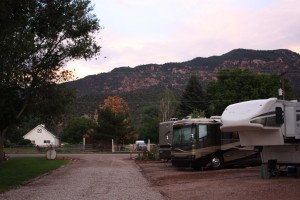 This is Dave's truck.  Dave began full-timing last year at the age of 79!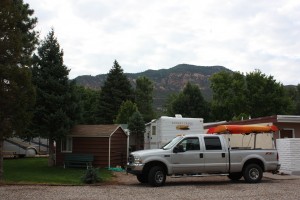 This is my yard.  MY yard!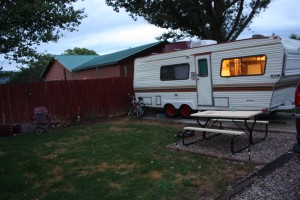 And a rare look of an open window, not a common occurrence up to this point…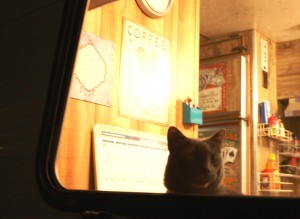 Last, but not least, my hummingbird video…