Current Venue: Pueblo, CO
Campground:   Haggards RV Campground
Visiting : A Local Pub for a Pueblo Slopper
Click Any Photo To Enlarge! " * " Denotes A Definition Available on the Common Terms Page
I don't know how much excitement Memphis Red* can handle.  First — 200,000 miles.  Now, east of the Rocky Mountains!  This means no more rock-climbing for her.  If all goes well, she'll be retired in a couple years when I upgrade to a vehicle with more up-hill muscle.
We made it!  There were a few struggles from Wyoming to Pueblo, but not where I anticipated.  The grade I had been studying in my Mountain West Directory was little trouble at all — my problem was Denver.  The long grades wouldn't have been terribly difficult if it weren't for the constant stop-and-go of the interstate traffic.  One minute you're in construction zones and 30-mph traffic, the next you're expected to go 60 with no head-of-steam.  So, at times, I was going 45 miles per hour in a 75 with merging traffic.  The bad drivers didn't help much.  I'm glad I made this journey on a Sunday…
I can't tell you how ecstatic I was to finally see wide expanses of plains to the east.  I finally got this rig over the hills!  But when I got to Pueblo I had to go west again!  Back towards the mountains, up more grades.  Again, not bad inclines by themselves, but a strange setup — miles of uphill stoplights in 55 mph zones.  And then I heard that "sound" again…
It's the sound that inspired me to get a tranny-cooler thinking the transmission was sticking.  But I don't think it's the transmission, now.  I'm no mechanic, but it's almost as if it's stuck in fast idle?  I took it as easy as I could and, after a few minutes it just clicked off.  Maybe it needs some choke spray?  This said, still no major incidents…
Consecutive Travel Days Without an Incident : 8
I have to say, when I pulled into this park, it looked a little sad.  It's nearly empty being their off-season, and more than half the occupants are clearly residents — the one-month rate is $375 including electricity.  The sites aren't level and the gnarly weeds underfoot were a tiny bit annoying during setup.  Part of my mood was filtered by the stress of the trip, the stress up my upcoming job training, and rushing setup to beat the oncoming storm — which never even came.
When I finished leveling, I wondered if I'd made a mistake.  The tongue was as far up as it would go.  In fact, the front end is so high, I'll clearly need to install a bottom step at some point so I don't break my leg.  Looking at 48 Ugly* from a distance, it appears the height of it is sort of "caddy-cornered."  I dunno.  I did know that I traversed those mountains and that it was time to celebrate at a restaurant with a burger and fries — a rare treat — but I deserved it!
I picked the right time to eat a burger.  This area is famous for the Pueblo slopper.  I'm a pretty creative cook, but I'm not sure I ever would of thought of this concoction!  It's like a green chile soup with a burger floating around in it.  Very tasty, but strange even by my standards…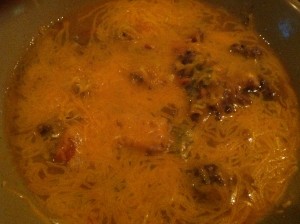 That burger hit the spot!  When I got back to the campground, I began to see the beauty of my surroundings.  One thing that struck me was the garden.  You don't often see gardens in RV parks!  Richard is the proprietor of little farm, and he was happy to share with me all the strange creatures here — including rattlesnake watermelon and spaghetti squash.  Him and his wife clearly live a non-traditional life –selling their home and swimming pool many years ago and giving up television — for simpler and happier times…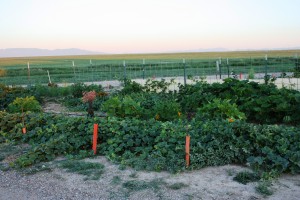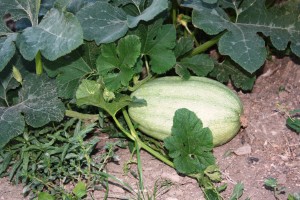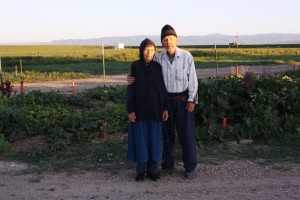 I arose early Monday for a sunrise.  Not on purpose, it just sort of happened that way.  Notice the FLAT horizon looking east (Memphis Red and I are still quite excited about this)…