The following is my journey from Pueblo CO to Wichita KS on Route 50.
Click Any Photo To Enlarge! " * " Denotes A Definition Available on the Common Terms Page
Tuesday September 17th
Current Venue: Pueblo, CO
Campground:   Haggards RV Campground

 If there's ever a place I could call an ideal home if I ever had to settle down and work, this place would be a definite consideration.  It's amazing how many of the overnighters ended up spending extra time here.  It's a special place.  Nancy is most cheerful manager I've ever met.  It must rub off on the residents — good folk.  I'll miss the horses, the cookouts, the sunrises, the "mountain thunderstorms", the sunsets, and this unique group of people — several of which took time to give me a friendly farewell.
And even on my last evening, I had to take a picture or two…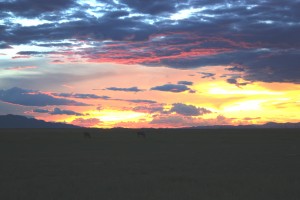 Wednesday September 18th
Current Venue: Lamar, CO
Campground:   Lamar Country Acres

Click Any Photo To Enlarge! " * " Denotes A Definition Available on the Common Terms Page
Easy travel day.  I did well on gas because most of it was a steady descent.  In my opinion, the only nice features of this campground is the friendly staff and  the outdoor events center called Island of Dreams…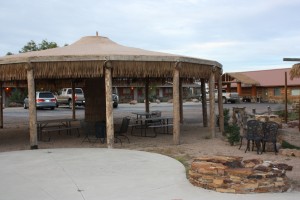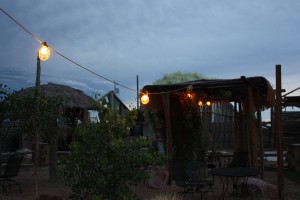 The RV spots are situated side-by-side on the perimeter of the property, which is a small hotel.  Unbeknownst to me I was collecting small, sharp burrs up to my ankles while setting up.  I didn't mind picking them off with the pliers.  I didn't mind that my cable didn't work well.  I didn't even mind being in sort of a "blah" section of town (near a small college).  But the pay-shower situation was frustrating.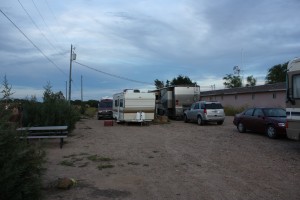 I really enjoyed downtown Lamar, however.  After chatting with a fellow at the visitor center about windmills and the lucky landowner that rents his property for $400,000 year to give them a home — I made a very insignificant purchase of 50 cents for a bestselling novel at a terrific little bookstore.  I then enjoyed a cold beverage and some cheap hot wings to celebrate making the first leg of the journey.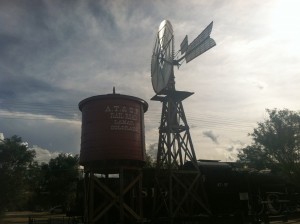 Thursday/Friday September 19th and 20th
Current Venue:  Dodge City, KS
Campground:   Gunsmoke Trav-L-Park

Click Any Photo To Enlarge! " * " Denotes A Definition Available on the Common Terms Page
Another easy travel day!  This park has a lot of RULES.  They're posted everywhere.  The staff doesn't like to be bothered with tourist-type questions.   I did get a kick out of the manager's closing line, "…and at high noon tomorrow, it's time to ante up or get out of Dodge…"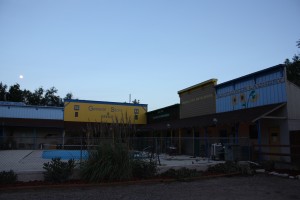 Interestingly, that's been my experience everywhere in this town, "obey the rules and don't ask questions because we are not interested in our history or our tourist traps."  And, while the chamber of commerce is a friendly-enough crowd, even their trolley tour bus has a very visible sign on the door:  "No food or beverages.  The only beverage allowed is water.  It must have a lid.  And the lid must be on…"
Something to that effect.  And, listening to the history of lawlessness in Dodge City, it's clear to me this town has been overcompensating for those hell-raising days for the past century.  They do like ORDER here!  In fact, the citizens here buried their past until about the 50's when a local journalist uncovered the history and got Dodge City in an upheaval over the subject of it's past violence.  Eventually, of course, the story of restoring order here became the basis of the hit TV Series Gunsmoke.  And the sheriff Wyatt Earp became a national legend.
Rather than visiting the museum and the replica of the famous Front Street (which had actually burnt down twice and then displaced by development)…
I opted instead for the more authentic tour.  The hour-long trolley ride took us to the actual location of Front Street, talked about the interesting history of cattle-rustling ,violent beginnings, local legends,  and took us to the town of Ft. Dodge.  This place was largely built to protect travelers from the town of Dodge City!  (At one time the railroads threatened to discontinue service here).  Many of the original structures of Ft. Dodge remain today…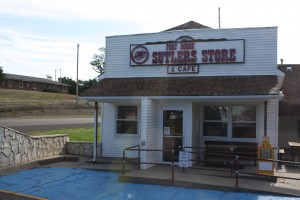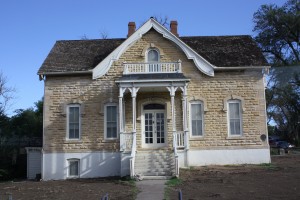 Saturday/Sunday September 21st and 22nd
Current Venue:  Halstead, KS
Campground:   Springlake RV Resort

Click Any Photo To Enlarge! " * " Denotes A Definition Available on the Common Terms Page
Another easy travel day!  It's fun traveling these lonely highways, not having to deal with interstate traffic.  There was a bit of wind and a tiny bit a sway in the beginning of the trip.  Later on I plowed through hundreds of thousands of yellow butterflies.  Many survived.
In fact, I saw many many yellow butterflies at my campground.  And monarchs.  And many other creatures that would suggest I'm close to the midwest.  "Wooly worms" are very reminiscent of my childhood growing up in Illinois…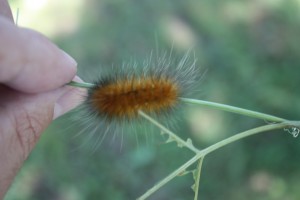 And I've never seen so many frogs in my life…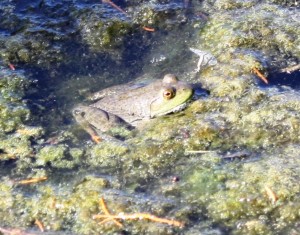 The campground is terrific.  There are about 6-7 different ponds for the nature enthusiasts and fishermen.  They also offer several activities at the clubhouse over the weekends.  I skipped the concert last night but opted instead for a terrific $3 breakfast this morning.  I chatted for nearly an hour and a half with a lovely couple from Iowa and a full-timer who does work for FEMA.  Yep, I'll put in my application soon enough…