Where I'm At:  Petaluma, CA
Campground: Petaluma KOA
Rookie RiverCat Questions His Lifestyle Choice
Yesterday was a really, really bad travel day.
First, I under-inflated my tires. I discovered this after I headed down the highway a bit and began bouncing and swaying. When I got my strange array of unmatched tires inspected, it was suggested I over-inflate them a bit. As I was doing this I noticed something else…
The troublesome leaf-spring bolt was now rubbing against something else. I'm told it's an emergency brake cable! (This, after Les Schwab had already made a second adjustment so that it wouldn't puncture the coolant hose, again).
Hour-and-a-half delay. Jeepers was a ticking time-bomb. I saw little chance of his sedative keeping him under that long. Well, I suppose he knew the deal when he wandered into my life. I hate doing this to the poor little guy. He was quite agitated the last 45 minutes of the journey but, after 5-and-a-half hours, we made it.
I won't say out loud what the nightly rate at KOA is. Even as a rookie full-timer, it's embarrassing! No matter, I wouldn't be staying for long. It's the perfect ending to a perfect day…
So I Hit a Redwood!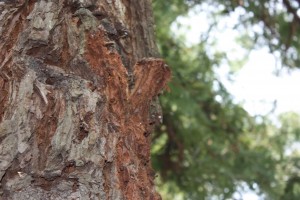 Yup, I still can't back a trailer…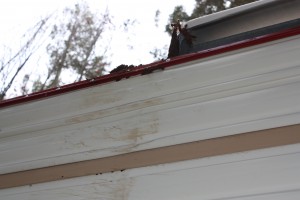 Just a scrape, a dent, a few broken dishes, and a bruised ego.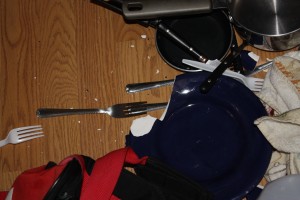 Exhausted, I didn't even attempt to level it right away…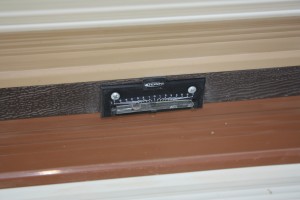 But I soon learned sleeping at an extreme incline can be challenging and, with a fresh start in the morning and a little assistance from my neighbor, I finally got set up.
A Family Campground
Petaluma KOA is bustling with activity.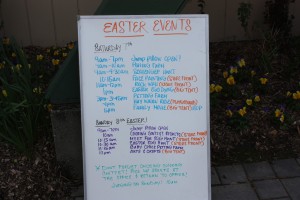 There's plenty of activities for little kids…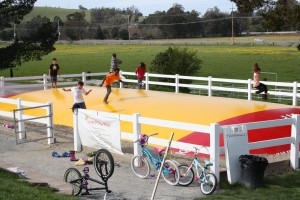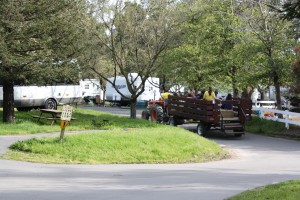 And a petting zoo for big kids like me.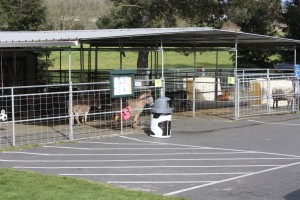 This is especially good therapy for a frazzled rookie RVer who just hit a redwood with his home!