Current Venue:  Petaluma, CA
Campground: Petaluma KOA
Yesterday really had me questioning myself and my current situation.  It was a really, really bad travel day.
Here's the deal.  My van is going to be a high-maintenance affair.  A lot of little things are going to remain sources of constant worry.  Today?  I aired up my tires at the truck stop and, when I got on the freeway my van started swaying.  I mean, out of control swaying!  I pulled off the next exit, called my friend Dale, and he came over in a jiff.  The verdict?  Not enough air in the back tires.  But Dale, they're at the recommended max, my tire gauge says so!  He scratched his chin when I showed him.  We both agreed they looked low, and he recommended air them up from 40 psi to forty-three psi, no more than that.  Wow.
And guess what.  I went back to the truck stop, took them up to 43 psi and, while the van still had it's moments for awhile, over-inflating the tires actually did the trick.  This is a rather precarious situation.  Additionally, when I was looking around under the van, I found the leaf spring bolt rubbing against another item, this time an emergency brake cable.  (This, after I had Les Schwab make another adjustment to the leaf spring.  This is another issue entirely, one I'm not ready to deal with, yet).  I was starting to get grumpy.
I've mentioned in previous posts that dealing with this sort of thing would all be a part of my wonderful adventure.  One major oversight, though.  Jeepers.  After I sedate him, he is a ticking time bomb.  Really.  It's always a race against time that has me on edge constantly.  When he begins to stir, I'm in trouble if I have a long way to go.  An hour-and-a-half delay is devastating.  I never have the option of slowing down to deal with things in a relaxed manner.  It's very, very difficult for both of us and I think having him along is going to be impossible in the long term.  It's not fair to either of us.  But as of yet, I still don't have a solution.  When I put him on Craigslist in Redding, I didn't get a single response.
What's going to happen when we have a real breakdown?
Over 5 hours after departure, I finally arrived at my destination.  I'd stayed here in the past in the van, but always during the off-season apparently.  I can't even bring myself to say out loud the rate I'm paying for the next couple nights.  Even as a rookie full-timer, it's embarrassing.  I'll call this a vacation or something.  Terrific resort, but still…
At that point I became even grumpier.  Then I hit a tree…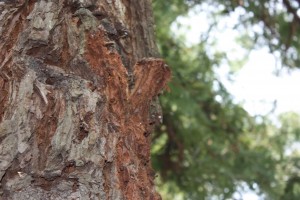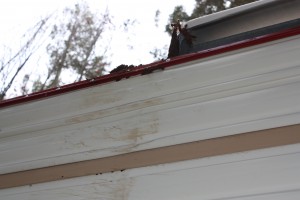 Yup,  I still can't back a trailer.  I'd resigned to pulling forward and bringing it back around to align all my hookups just right.  I took the corner a little too sharp.  There is damage, but I believe it's minimal.
My new friend?  Mike, my neighbor.  He managed to get me out of the jam and gave me some tips on learning to back a trailer. He also suggested I level the rig.  Admittedly, it wasn't level from side-to-side.  But what's the big deal, really?  Besides, I was extra grumpy and just wanted to hook up and take a nap at that point.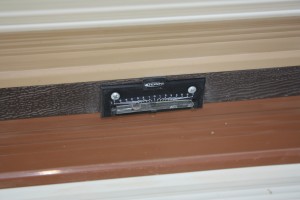 Okay, being a little unlevel isn't a huge deal.  Being a lot unlevel is.  Doors don't stay ajar and standing up is a constant minor strain.  So, later in the evening I unhooked everything and recruited my new best friend Mike to assist me.  What would I do without my neighbors?
Next Story: Downtown Petaluma