Current Venue:  Las Vegas
Campground: Thousand Trails

Click Any Photo To Enlarge! " * " Denotes A Definition Available on the Common Terms Page
I've around a few wildfires in my time.  I was nearly evacuated at my hotel in the Arbuckle Mountains in Oklahoma about 10 years ago and saw many more before the craziness in Reno a couple years ago where pretty much half the metro area was on standby to evacuate!
This Mt. Charleston wildfire is weird, though.  For one thing, even though it's all over the news, I haven't heard a single poker player or co-worker utter a word about it — most of them don't live here, of course.  But the other strange thing about it is that you can't SMELL it!  Even though you can clearly see the plumes of smoke off in the distance and even though Las Vegas has been overtaken with a smokey haze — can't smell it!  I don't understand this effect.  I know this is a more distant fire than the ones I'd been involved with before, but I didn't realize smoke lost it's potency after a certain distance.
This haze makes for some spectacular images, however.  My iPhone snapshots don't do it justice…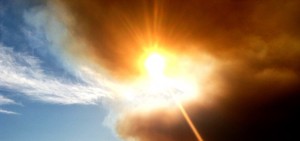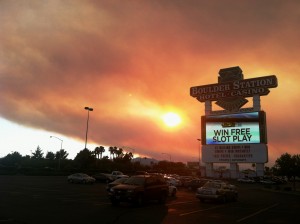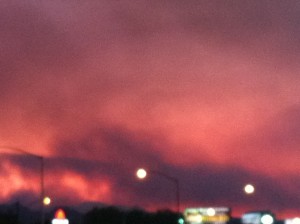 And while I had the iPhone out, I simply couldn't resist the car with eyelashes…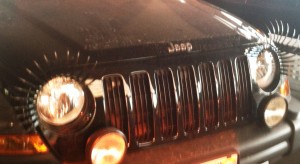 Today is my last day of work! 
Yes, today is Day Three of the Main Event of the WSOP (it's actually the 6th day in calendar terms, as there are 3 Day Ones and 2 Day Twos).  This means that tomorrow 10% of the 7,000-plus players that forked out $10,000 for this contest will remain and get a return on their money.  They'll play the rest of the week to determine who the final nine players will be.  Then these nine millionaires will come back in October to duke it out.  They are called the "November Nine", as this is when the poker championship of the world is aired on television.
I am probably on TV or on a poker website somewhere.  I'm not going to do a search.  I dealt to perhaps the greatest poker player in the world while he was getting quite a bit of media attention — Phil Ivey.  I was two tables away from dealing to Doyle Brunson, who was an honorary player after retiring last year.  I almost dealt to Ray Ramano of Everybody Loves Raymond, as well.  Compared to other years, I dealt to much fewer famous pros than usual. I do know that I simply don't recognize a lot of the newer stars and am sure I dealt to quite a few of those, as well.   That's ok — I've dealt to all of them before and maybe will, again.
Or not.  Perhaps I'll get promoted next year or come back as a player, instead.  Only time will tell.
All I know right now is this weekend will be loaded with errands and catching up on my blogs by day — and playing a couple poker tournaments of my own, by night.  I intend to get a lot done the next couple weeks and manage my money well enough so that I leave town with a certain amount of cash.
I met a 15-year veteran of the full-time lifestyle at the pool last night.  It's so interesting how many different subcultures there are amongst full-timers.  For instance, in 15 years she had never read another full-timer's blog.  In fact, she'd never even heard of one!  Nearly all of her full-timer friends are part of the RPI network.  And she is a socialite — I can tell.  It doesn't take much figuring to know this couple drives a very modern Class-A rig.
When we discussed her upcoming trip to Laughlin, I mentioned my wonderful shaded campsite at Cal-Nev-Ari.  She sort of scoffed at the idea of being 10 miles outside of any town!  She looked at me as if to say, "No thank you.  I need to wear cute hats and play shuffleboard with my friends."
To each his own.  I myself am an unusual full-timer in my own right.  I'm largely a working-class "urban RVer."  I'll spend most of my time near larger cities.  And, while this wasn't necessarily my ideal dream when I first decided to become a full-timer, this necessity does offer certain advantages…
One of these is the exciting prospect of seeing lots and lots of major sporting events!  I'm already eyeballing some football and baseball games in both Denver and Kansas City this fall.  Of course, other advantages include better monthly/weekly deals on parks, casinos, museums, and social activities for the single person.
Despite our different lifestyles, I really like what my new friend was telling me about RPI.  From what I was gathering, you can buy a used membership for a $100 initiation and pay $100 dues every year.  This then entitles you to $10 campsites all over the U.S.  It is a maximum 2-week stay at any resort.  I wouldn't have considered this arrangement before this new job I'm taking on.  But now that I may be hopping around from week-to-week to get from one job to the next, a membership like this may be worth looking into.