Click Any Photo To Enlarge! " * " Denotes A Definition Available on the Common Terms Page
Current Venue:  Laramie, WY
Campground:   KOA

I left Provo on Thursday, going quite a bit out-of-the-way to Ogden to avoid the steep grades in the ski areas east of Salt Lake City.  There were some tough hills, but it could have been worse.  The KOA in Rock Springs, Wyoming is pretty plain.  I have to say — the hills in southwestern Wyoming are ugly — they look like mounds of dirt.  I was tempted to go mountain-biking in the BLM land behind the park, but thinking about my drive the following day, I decided to relax, instead.
I rarely drive on consecutive days, but I'm quite anxious to get settled in Pueblo before training.  The drive to Laramie was easy for the first half, and then required constant attention the last half — just lots of long, long grades.  More than twice I had to crawl at about 35 miles per hour.  But…
Travel Days Without an Incident : 6
I'll stay two nights at the KOA in Laramie WY to give Jeepers a break from his sedatives.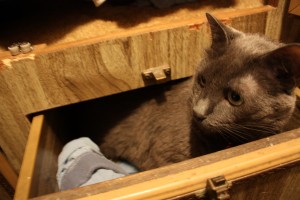 I honestly never understood the negative remarks made about KOA campgrounds at RV Park Reviews.  Too expensive, yes.  But I've always enjoyed the festive, family atmosphere of these campgrounds.  While these southern Wyoming versions are quite plain compared to the ones I've stayed at in the past, the staff at both parks are still incredibly friendly.  On the rare occasion I need to fork out the cash to accommodate my need for pull-throughs and full hook-ups — I always look forward to it.  My favorite feature of this one is the library…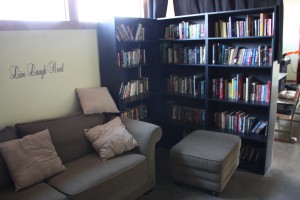 The nice thing about not having a custom paint-job is the flexibility of being a little "tacky."  Thus, I've started my bumper sticker collection…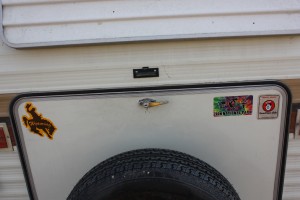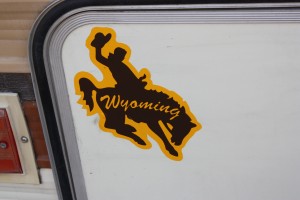 I'm $1200 over-budget since leaving Vegas.  Aside from forking out $250 on a tranny cooler I've done nothing extraordinary.  When I originally estimated I could do this on about $2500 a month, I underestimated grocery costs and  dining out occasionally.  I'm now realizing I need over $3000 per month to support the lifestyle I desire.  This means if I only work 8 months out of the year I'll need to earn about $5000 per month.  Tough.  It's still very clear to me I need to get my business going again at some point if I'm ever going to get my workload down to 6 months per year and have the flexibility I desire with my travels.  One thing at a time — see where this new job opportunity goes.  One day at a time…
The bummer is I'm already having to eliminate my poker trip to the Denver area, as well as the sporting events I'd hoped to attend.  The only thing that can change that is some nice commissions during training.  It appears I'll be laying low in Pueblo.  Same story in Kansas.  THIS is the kind of thing that motivates me!