Click Any Photo To Enlarge! " * " Denotes A Definition Available on the Common Terms Page
Current Venue:  Tempe, AZ (Phoenix Area)
Campground: Tempe Travel Trailer Villa
Visiting: Indian Bend Wash in Scottsdale, AZ
Welcome to Eldorado Park!  No, it's not a lake.  The park is  a little wet, today.  But this park is actually designed for flooding!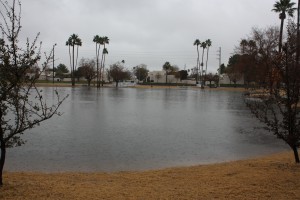 In fact, 12 miles of continuous parks were built in Indian Bend Wash back in the 1970's for the specific purpose of diverting flood waters and, in 1974, this project was named one of the top 10 engineering feats in the world — along with the first space probe to Mars, the Sears Tower in Chicago, and the transatlantic pipeline.
This was accomplished by using a special deep-rooted grass and designing the parks in a manner that would send flood waters on their merry way.  Every tree, every swing set strategically placed.  Even the tennis courts have special breakaway fences that stay in place and sort of tread water until the temporary river subsides.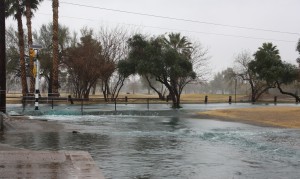 I found the bluish-green water interesting.  I'm not sure if it's because of the grass of if some of the golf courses nearby dye their water.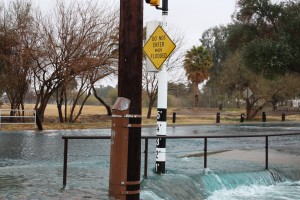 Unfortunately for this motorist, the road ahead is closed.  He will have to turn around and do it again!