Current Venue: Pueblo, CO
Campground:   Haggards RV Campground
Visiting:  Cripple Creek via Colorado Highway 67
Click Any Photo To Enlarge! " * " Denotes A Definition Available on the Common Terms Page
When I spoke to the park manager, Nancy, a couple weeks ago about the quickest way to Cripple Creek, I was astounded to learn that the 30-mile trip takes one and a half hours!  I thought surely there was a mistake.  Nancy's mother was insistent not to come certain routes at night because they were dangerous but I didn't retain any of that information two weeks later.  Nancy wasn't in the office the day of my voyage so — I just turned on the ole GPS.  It was daylight, after all.  I'd just get a different highway coming back.  Was I in for a trip…
Highway 67.  That's what the GPS said.  After one mile of pavement it quickly turns into a ONE-LANE hairpin-curve gravel path around perilous cliffs and no visibility around corners.  What this means is you better hope there's not another car coming from the other direction.  Did I mention it's one lane for TWO way traffic?  Of course there is no traffic.  Nobody's fool enough to drive this road.  "Highway" 67, indeed.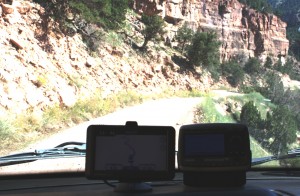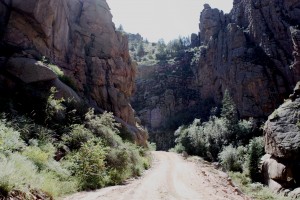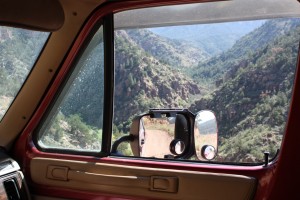 For nearly two hours of crawling along at 5-10 miles per hour I saw two 4-wheelers and two 4-wheel drive SUV's.  Incredibly, the two SUV's and I converged on the same cliff at exactly the same time!  You see, every few hundred feet there are very narrow pull-offs that give you about 2 feet extra room to let another car squeeze by.  Seeing that first car coming my way a couple of hairpin curves away, I go ahead an pull over not knowing when or if the next one is nearby.  I wait for the car to approach.  A long, long time.  Despite their 4-wheel drive, 5 miles per hour was just fine with them too.  But not so much for the Cherokee that came "racing" up behind me…
Out of nowhere, at a good 12-15 miles per hour he goes blindly around the hairpin turn thinking I'd pulled over to let him pass!  He came within 3-4 feet of a head-on collision with the other vehicle!  He had to back up — all the way down the bend maybe a couple hundred feet until the road was wide enough to let the other vehicle past.  Wow!   If they had crashed, there's no telling if one would have caromed into me.  I daresay my 3/4 ton van may have withstood the crash at such low speed, but with my right tires right on the very ledge with at least a 2000-foot drop I'm not eager to test the theory.
I'm no expert at driving these roads, but when you have certain death on the right side and sheer rock face on the left with no way of seeing what's around the next bend, it's easy to do the math — you have to be looking a half-mile ahead to see potential oncoming cars!  And go SLOW enough that you can avert certain disaster in case you missed something!  So may I just say to the fool that might have killed all of us…YOU IDIOT!
And to the jokesters that call 67 a highway and then 3/4 of the way through the journey put up a sign that says: "4-wheel drive only."  Real funny.  I remember thinking, "Oh sure, I'll just turn back and GET one."
But joke's on them.  Memphis Red was up for the challenge once again.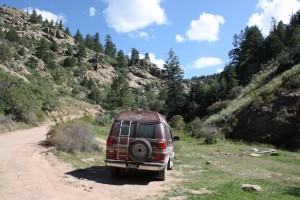 She didn't even mind getting a little dirty to perform the task…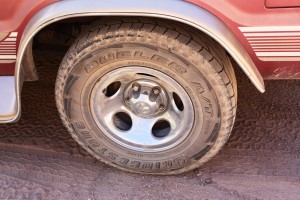 And at the only "rest area" for 20 miles I found this little guy.  As I was taking a picture of this flower he came to visit me.  I thought it was going to be my greatest hummingbird picture EVER.  Only one problem…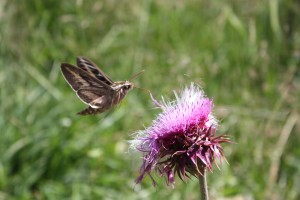 Alas, I finally arrived at Cripple Creek…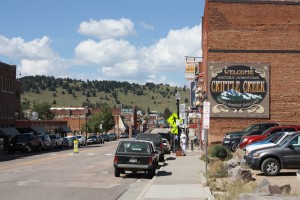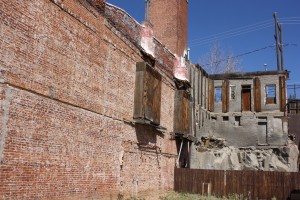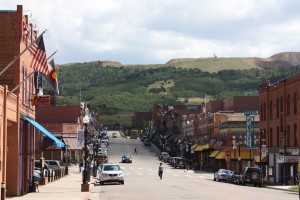 It's a cute little mining town with a train ride and lots of casinos.  The "feel" of these establishments was interesting to me:  like a cross between the casinos of North Shore of Lake Tahoe and the saloons of Virginia City, hard to explain.  While eating at a bar I had a discussion with the bartender who'd been dreaming of becoming a full-time RVer but insisted she couldn't.  Being the perfect candidate — single, no family tying her down, and as a bartender who could do seasonal work at national parks — I insisted she could!  But she kept shaking her head uncontrollably:
"When I win the lottery…"
On one hand, if I can do it, anyone can.  On the other hand, I can barely rub two nickels together at the moment — who am I to encourage others?
I went to the visitor's center to find an alternate route home.  I was given a map with all the warnings for the route I just came:
"Warning: No vehicles over 25 feet."
"Warning: 4-wheel drive recommended."
"Warning: One-Lane Only."
THE BEAST…
My alternate route took me out of the way quite a bit, but well worth it.  Gorgeous.  Rolling green hills all the way to Canon City.  Unfortunately, nowhere to pull over and take photos because apparently rural southern Colorado does not believe in shoulders!
And what should I see crossing the road in broad daylight? At first I thought it was a relative of a bighorn sheep, very tall with long hair but, even with his head turned the other direction and tilted down slightly,  it didn't appear to have horns.  So, what the heck IS it?  When I got within a few feet of it, it turned it's head and looked straight over the hood of my Dodge Ram 2500.  My jaw dropped.  It was a  huge — and I mean HUGE — Wolf.    I've seen wolves before in captivity and I can assure you the size of this creature was not ordinary — a giant — the kind of beast local legends are made of.    But there was no shoulder anywhere to pull over or even turn around to get another look.  Oh well.  I guess some moments are meant for just  me, alone.  I won't need a picture to remember that image.