Click Any Photo To Enlarge!    " * "   Denotes A Definition Available on the Common Terms Page
Current Venue:  Tempe, AZ (Phoenix Area)
Campground: Tempe Travel Trailer Villa
Visiting : Fish Creek Canyon on Apache Trail

Despite my determination to do some serious hiking into the mysterious rain-forest-in-the-desert-canyons of Fish Creek to find my critters, my wildlife scavenger hunt came to an abrupt halt yesterday when it was determined by my companion that the trail was simply too perilous.  I'm not pointing fingers or naming names…
But in all honesty the short trail just to get into the canyon was quite an adventure in itself.  In fact, you first have to scale a few rocks to get up to this cave, a terrific spot…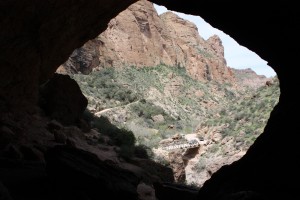 And then brave a steep descent on loose rock to get down into the canyon…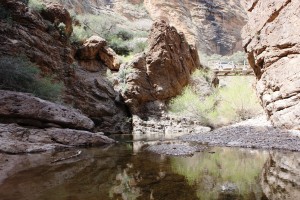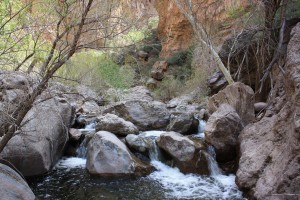 Breathtaking, no doubt!  But the only way to get deeper in the canyon and see all the natural wonders I'd been reading about was to cross the creek and scale a large boulder which, to my own admission, can be quite tricky if you're carrying bags.  I certainly wouldn't ask someone to do it that's not comfortable – I'm going to save this adventure for another day.
Of course, about halfway back up to the cave, a swimmer yells, "Tarantula!"
I scurried back down, crossed the creek, and up the boulder — only to discover that large arachnid had scurried under one of numerous piles of leaves on the hillside, probably into his burrow.  So close. 
Switching gears from hiking to sightseeing was not difficult, of course — I love seeing what's around the next bend!  And that's what me and Jim did all day.  Lots and lots of bends…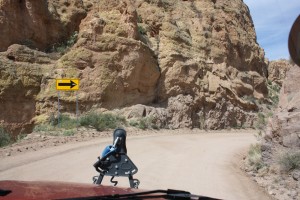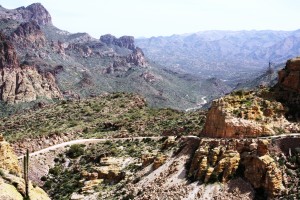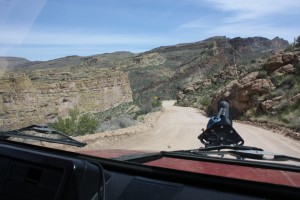 The Apache Trail is 22 miles of unpaved roads and hairpins, much of it fit for only one vehicle.  From what I'm told, these roads may never be improved for fear too many tourists would flock up here and run each other off the cliffs.
The colors and vistas were spectacular, and around each bend you'd see something just as interesting as the last.  The hours of driving and mini-hikes absolutely flew by.  And I did see wildlife…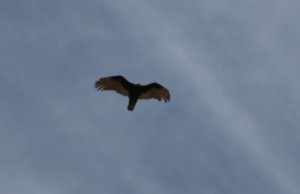 And spotted the most perfect tent-site ever at Three-Mile Wash…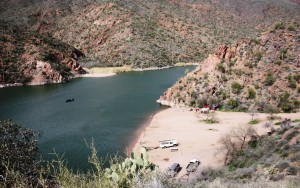 This little beach is nestled in a canyon next to the aqua-colored water of the Salt River.  What made it almost surreal was the  misplaced-looking island (not pictured) with desert flora on it.  I can't imagine sunsets or full moons in this spot.  In fact, me and Jim seemingly lost our minds for quite awhile daydreaming-out-loud what it would be like to pitch a tent down there!  I determined that if my latest cat-adoption effort works out, that this is exactly how I'm going to celebrate.
After 22 miles and several hours of bone-jarring "off-road" action, we found pavement near Roosevelt Dam, which stands at over 350 feet tall…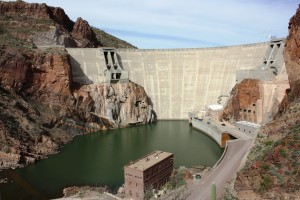 To our amazement, what started out as a little journey "up the hill" and back, put us about 80 miles from Phoenix somehow!  To me, it barely seemed possible.  The Superstition Mountains have always been somewhat of an illusion to me.  What looks like a tiny mountain range with one ominous peak is actually better than 50 miles across and I-don't-know-how-many miles long.  The Superstitions are also full of wonder and beauty that I never would have suspected.  It's a shame that I haven't been here before now.
I will be back.
But today I got to do it with Jimbo.  And I never ever get tired of talking to this guy!  He sees everything with his eyes wide open, much like myself.   I hope we'll run into each other lots over the next few years so we can do it again…