Current Venue:  Las Vegas
Campground: Thousand Trails
Visiting : Ethel M. Chocolate Factory
Click Any Photo To Enlarge! " * " Denotes A Definition Available on the Common Terms Page
The Ethel M. Chocolate Factory tour is perfectly suited for those with short attention spans.  It's self-guided, spans a hallway all of 100 feet long, and features a free sample at the end.  Well, not exactly the end —  the entrance begins in a gift shop and the exit spits you out into another!  Is this the definition of a tourist trap?!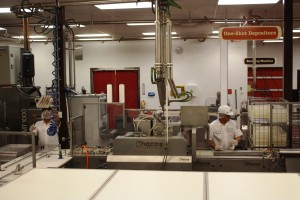 I chose white chocolate…Yes, it was delicious.  Thank you, Ethel M!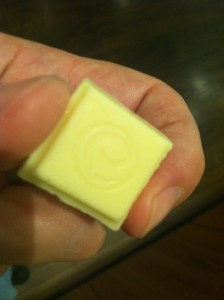 Considering I never really eat chocolate, I'd guess my odds of having it extended to me as a gift on consecutive days are about one in a million…
I love the sight of RV Rentals.  It just cheers me up to know my neighbors are on the vacation-of-a-lifetime, sometimes experiencing the thrill of RVing for the first time!  My neighbors have a Camping World rental.  There's a knock on the door.  It's a man in his early 40's, blond hair, blue eyes.  He's European, and can speak almost no English.  He's asking me something about the "water stream-liner."  My first guess is his water hose burst under the intense pressure at the park.
He beckons me to come take a look. At his picnic table are two beautiful young ladies (teenagers) — both with blond hair, blue eyes.   The "water stream-liner" turns out to be the air conditioner.  It's gushing water onto the kitchen floor.  And, despite my misadventures, this one was brand new on me — I had no idea what to tell him.
By the time I got back to 48 Ugly*, I'd decided I couldn't leave them this in this position.  I went back armed with my cell phone to assist them with a call to Camping World.  This time there were two more family members at the picnic table, a teenage boy and another pretty  teenage girl — both with blue eyes, blond hair.
Camping World Roadside Assistance informed me that it's not uncommon for the drain filters on their rigs to get clogged.  And, if ever there's a time to get it clogged, I suppose it's when you're under a tree covered in gooey sap.  As we made arrangements for them to go into the local Camping World, another beautiful woman exited the RV!  Yes, blue eyes, blond hair.  It's the Barbie and Ken clan!
Not long after I retreated to 48 Ugly* there was a knock on the door.  It was the teenage boy.  He graciously thanked me for my help and handed me this…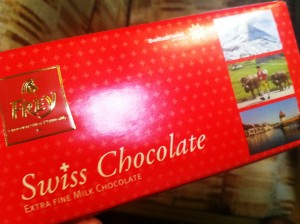 An authentic Swiss candy bar complete with foreign inscription on the back! Of course I'll probably never eat it.  I'll just place this keepsake on the top shelf of my fridge and admire it.
I read somewhere that the Swiss are among the happiest people in the world.  I'm fairly certain of this.  After all, it's rare you run into a Swiss immigrant these days — at least I never do.  So, what are my chances of going over there one day and picking out my future Mrs. RiverCat to bring home to America with me?  Right, kicking and screaming maybe…
Speaking of such, it seems I have a couple of on-line resources to keep me busy socially when I wish to.  In a little more than a week here in Vegas, I met 3 pretty neat ladies and already have a date at my next destination.  It's not a distraction I'll always want on my travels, but after dabbling with it a little, I feel like it's going to come in handy when I feel like having more companionship.  I may come to discover I just prefer doing The Ultimate Journey alone, but at only 42 years old — I'm not convinced of that, yet.