Current Venue:  Redding, CA
Campground:  Sacramento River RV Park
I'm shoving off tomorrow.  Petaluma, here I come!
Yesterday my neighbor Dale was kind enough to tackle these leaks, again.  He found a couple cracks on the skylights and patched them up in addition to touching up the porch light.  Hopefully that will do the trick.  At very least, I'm sure we're at least one step closer.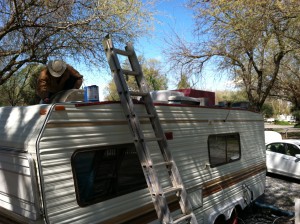 The bad news this week is that my WSOP contact is telling me I have to audition for my summer job..  It's ridiculous.  It really is considering I traveled with this group for 3 years.  Not only will there be $500+ in expenses, but it's also putting an unnecessary stress on the first leg of my journey.  According to my calculations, it appears I can only spend an average of 3 days at each city on the way down to southern California.  Then, if I audition in Vegas the week of the 26th, I'll have the option of leaving the trailer in Barstow for a $175 weekly rate, then coming back to finish my Cali trip — or just going on into Vegas a month early.  None of this appeals to me.  I even have to worry about the remote possibility I could blow the audition (despite being an excellent dealer, I've certainly had my moments while testing in the past).
I resent this enough to forget the whole thing.  That would be irresponsible at this point, however.  I can't count on playing for a living again just yet.  And, if I don't deal this event, I have little or no chance to participate in the other two events I want to work in January and February next year in Mississippi.  If I can get these 3 events nailed down, I'll have a nice foundation with my 2 incomes.  I must press forward and go through with it.  Even if I somehow sabotage this opportunity, at least I can follow through.  And, who knows, maybe I'll make so much money playing this next month, I'll be totally relaxed about the whole thing and not care one way or another.
Kind of like this morning.  On a couple different occasions when I lived in Reno, I called the welcome center at Lassen Volcanic National Park to find out more about perhaps the most mysterious of national parks in the nation.  It seems the park is never open due to snow.  When I went to the website this morning, there were conflicting messages as to whether or not it's tourist season yet.  Well, it's not that far — so I drove up there…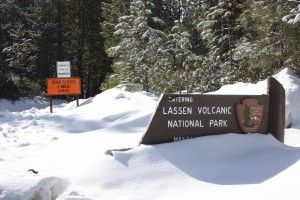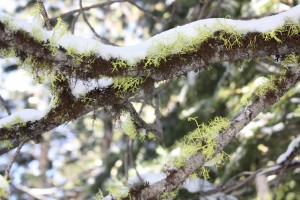 Yes, it's April and there's no sign of life!  By my estimates, this park and highway 89 is only open 2 months out of the year.  I considered heading north towards Mt. Shasta.  I knew Shasta Lake, famous for perhaps being the houseboat capital of the world, was not far — but it was rather chilly out.  Shasta Caverns?  I dunno. Caves used to intrigue me — but the tourist variety all look the same, in my opinion.
I opted instead to check out a "factory outlet" mall south of town.  Boy, was I disappointed.  It seems they can call anything a factory outlet these days.  After all of 2 hours of sightseeing, I surrendered and went back to base camp for a nap, instead.
I'd been tossing around the idea of staying here through Easter Sunday for a special tournament and holiday lunch at one of the clubs.  But after failing today to even explore properly, it seems to me it's time to go.  I went ahead and informed the office, then started unhooking some of the utilities and packed the scooter.
After a quick little win at the casino, I came back for one last excursion at the river.  Finally, on my last evening here, an otter!  As soon as I saw it I scrambled down the bank and tried to get my iphone camera ready.  But I could never catch the elusive athlete.  He kept resurfacing in different spots.  I did, however, get a snapshot of this cute little guy.  Any guesses on what this menacing-looking water bug might be?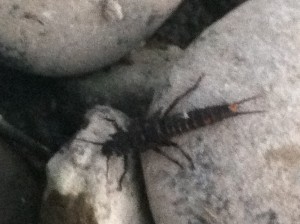 I'm wondering how the rest of April will unfold.  My short stays are certainly going to test my RV skills.  I suppose I should embrace this as my crash course driving this rig in traffic (it gets denser the further south I go) and becoming the expert in setup and teardown.  I'm very discouraged by this Vegas disruption at the moment.  There's no point in concerning myself with it right now — just enjoy the ride, right?
Next Story: When Vacations Attack