Current Venue: Liberty, KS
Campground:   Big Chief Campground
Visiting : Dalton Gang Reenactment Coffeyville KS
Click Any Photo To Enlarge! " * " Denotes A Definition Available on the Common Terms Page
We had a bit of rain and fog this weekend…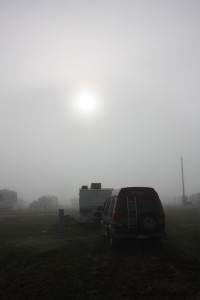 I LOVE gloomy weather!  I get all full of energy.  And even though I'm supposed to be resting my foot for a few days, I had to venture to downtown Coffeyville for a bit and do a tiny bit of sightseeing — it was unavoidable.  Coffeyville's claim to fame is the demise of the Dalton gang.  One day I'll take time to do the museum…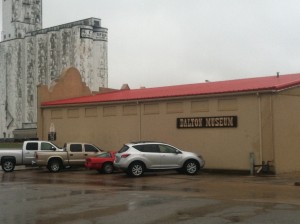 On this day I opted for the free reenactment at the bank the infamous gang had tried to rob.  It wasn't very realistic.  Either on account of the rain or perhaps the children present the actors did not use blanks or even cap guns.  Instead they verbalized the gunshots.  Bang Bang?  Nope.  They were shouting "Boom! Boom!"  Just say that a few times…
Go ahead.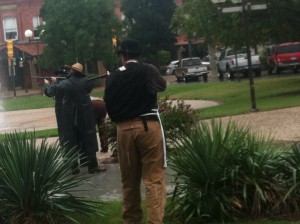 It sounds ridiculous.
I think the actors knew they had goofed as I sensed they were embarrassed by this during the production.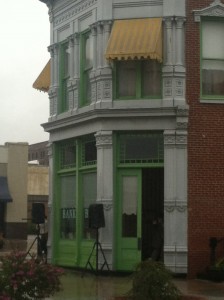 A few minutes later, when I was down the street a bit, I heard the explosion of "real" gun fire.  Good for them!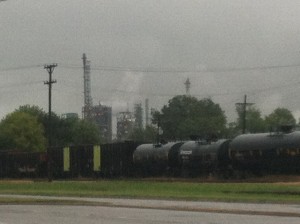 I was downtown on a bit of a research project, as well.  You see, I wanted a spot to watch the NFL games.  My days off are Sundays and Mondays but the RV Park only gets 5 channels — 3 religious channels, 1 Spanish religious channel, and a kid's education channel — slim pickin's.  And would you believe — every bar and grill in town is closed on Sundays!  Wow!
I managed ok listening to it on the radio but the forecast is this:  The Ramblin' RiverCat will be 30 miles away at a casino in Bartlesville, Oklahoma on Sunday October 27th (celebrating my first real paycheck) playing in a poker tournament and watching football!  It will be a fine day.