Current Venue:  Las Vegas, NV
Campground: Riviera RV Park
It's finally over!  The grind, the late-night shifts, an upset cat, and very little sleep.  Now I'm starting to feel like myself — a little more vital, again. As an added bonus, I made a few bucks winning a poker tournament on Wednesday.  That, more than anythingl, has brought me back to life.
I even did some sightseeing this weekend.  Here, a few images from The Bellagio…
Yesterday I made some phone calls and ran some errands.  I began by calling my contact at The Grand Canyon at the North Rim.  It's an interesting dilemma.  I'm being offered a minimum-wage job for about 8 weeks and am actually considering it.  Why?  It's The Grand Canyon!  Despite having to work 40 hours a week (driving the employee shuttle) to just barely sustain myself, the idea of having a completely different reality in a remote wilderness really appeals to me — a true working vacation, however.  A couple challenges include no cable TV (during football season) and no shower facilities (mine is a little weak and currently being used for storage).  But I really like the idea of "getting away from it all" and regrouping…
Even if I take the position, however, it could be short-lived.  I've been informed that I have a shot at dealing a poker event in Minnesota this October if one of the returning dealers decides not to come back this year.  I won't find out until August 7th but I have a funny feeling I'm getting in.  This could open other doors for me as far as future poker events, and is something I simply can't turn down.  So, it seems I'll have work…
And that's not to mention poker.  I'm back on track here in Vegas and am still making $40 per hour for the year.
After contemplating this, I then did a little shopping.  I began by hitting the gem store to pick up a cheap shark's tooth necklace.  When I asked the cashier what kind of shark, he said just a "regular" one.  Well, they can't all be Great Whites, I guess.  But perhaps he could have made it sound a little less like this shark was working 9-5 at a convenience store.
Then it was off to Fashion Show Mall to look for a new pair of black shoes…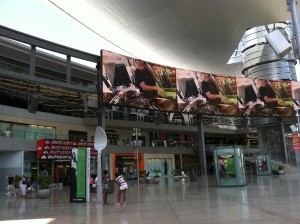 Instead, I ran into Jack…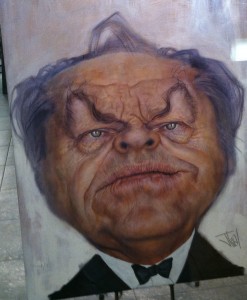 My next errand was to chat with my supervisor at the WSOP for a moment — the last time I'd set foot in The Rio for the rest of this summer.  When I dropped by, there were still 3 tables remaining, all with large audiences and TV coverage.  I recognized a few players from having dealt to them, but none of the well-known "TV Pros."  Incredibly, while over 80 countries were represented in The Main Event, 8 of the nine players at the Final Table (to be played in a couple months) are from the U.S.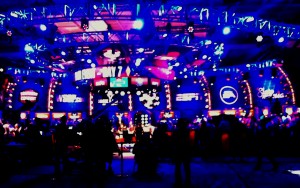 Off to the factory outlet mall.  One pair of shoes. $30.  The shoe box.  Priceless…
And what to do with the old pair?  My fantasy is to burn them in a ceremony, along with a few other items connected with "The Asylum" (my place of employment for the past few years).  It would be a symbolic "letting-go" of the negativity and nonsense associated with the place.  I feel like I need this sort of symbolism  to really begin the healing process of having wasted those 4 years on such an ungrateful and conniving group of lunatics (do I sound like the crazy one, here?).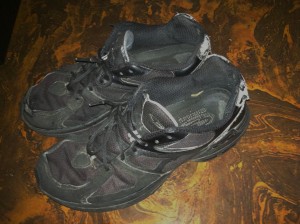 But I need a fire pit.  Thus far on the Journey I've only come across one!  (That was in Petaluma, California where the pits were oddly situated close to the neighbors' rigs).  I'm sure I'll get my opportunity soon enough, however.  For now I'll just start gathering these items so I'll have them ready for their ultimate destruction in a few weeks…
Next Story: Crinkly Fries