Click Any Photo To Enlarge! " * " Denotes A Definition Available on the Common Terms Page
Current Venue:  Las Vegas
Campground: Thousand Trails
Visiting : Clark County Wetlands Park
So, a neighbor told me a few weeks ago about this place called Clark County Wetlands Park.  What intrigued me was that he said there were beavers there — beavers, in the desert — so naturally I added it to my list of places to see!  It's only 5 minutes away, after all.  I figured from the way my neighbor described how he stumbled on it per a small sign —  that it would be a small park with a little nature walk.  So I planned a little hour excursion prior to my busy day.  About 4 hours later, however, I didn't quite cover all of this amazing 210-acre nature preserve (the park is 2900 acres total).
One of the reasons Wetlands Park is Vegas's best-kept secret is because it's still a work in progress.  I wandered into this large complex before-hours to use the restroom and was the only person there.   I thought the basin was pretty cool…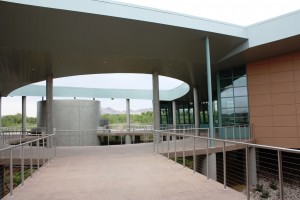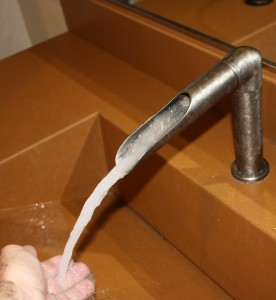 The Nature Center would be open later but there were a couple of "Coming Soon's", as well — a restaurant, for instance.  Certain trails are also closed off because of the construction crews hard-at-work.  Apparently the project began to preserve this natural habitat and something-or-other-to-do with the Las Vegas Wash and controlling water pollution and flooding yadda-yadda-yadda –  not interested in history today — show me some lush green vegetation and some critters!
It was right here that I missed my opportunity to see a beaver…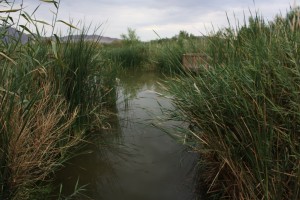 I heard him grunt before he apparently belly-flopped into the water.  No matter, I was thrilled to see thousands of large fish and another rarity in these parts — turtles.  Turtles and damselflies everywhere!  Was I really still in Las Vegas?!  A sighting of The Strip in the distance confirmed that I was…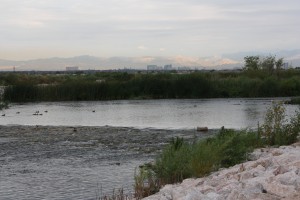 Not only does the park offer trails through thick vegetation…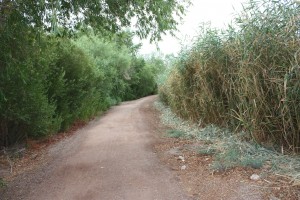 But also a variety of wide open views that give you interesting perspectives on the chaotic world that is Las Vegas…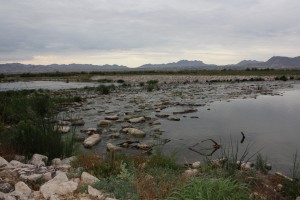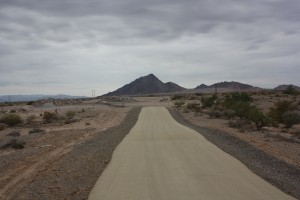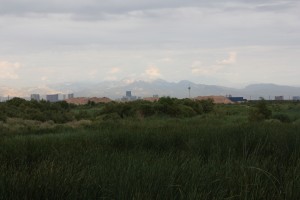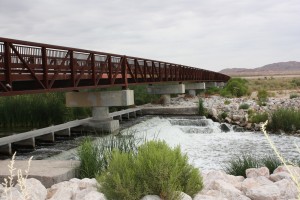 Coyote food is in abundance here…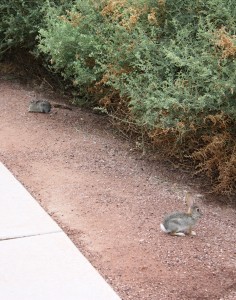 But the coyote kept his distance from The Ramblin' RiverCat.  I'm higher on the food chain (I think)…