Current Venue:  Cal-Nev-Ari, NV (between Searchlight and Laughlin)
Campground: Cal-Nev-Ari RV Park

Click Any Photo To Enlarge! " * " Denotes A Definition Available on the Common Terms Page
Consecutive Travel Days without an Incident: 1
Ok, well — one concern did pop up.  When the tow drivers carelessly set 48 Ugly* down in a rush, it came nowhere near the sewer.  I was completely unaware of this for nearly two days, as I hadn't really planned on hooking it up anyway.  Despite conserving water as best I could for the remainder of my stay in Black Rock, my small tanks were quite full.  So yesterday when I pulled the trailer up to dump, I discovered sewage had filled to the brim of the cap.  Was a seal broken or did the pressure from being so full just let the sewage seep through?  Is there an overflow outlet on the top of the valve?  For the time being, I'm just not going to worry about it…
You don't find rural campsites in the desert that look like this very often…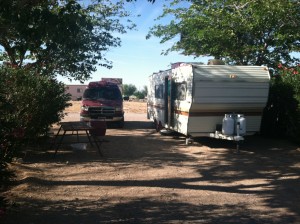 SHADE.  Lots of it.  And full-hookups, $1.50 to wash and dry laundry, CLEAN restrooms and showers, on-site store, and a casino/restaurant next door.  What more could you ask for?  Oh yeah — it's $19.
Laughlin.  This casino-resort town all began when a visionary named Don Laughlin decided to start an 8-room casino-resort on the Colorado river.  He flew in chickens from his ranch in Kingman and sold 98-cent all-you-can-eats.  Eventually, Laughlin became a town –with the post office right there in the casino!  Now it's a full-blown casino and water sports  destination and, to this day, Don Laughlin flies his helicopter off the top of Riverside casino from his penthouse suite to his cattle ranch in Kingman.  I could go on and on about the unique history of this town and this eccentric character but it would take up pages.
I have so many favorite casinos in this town, each with a unique flavor.  Probably my very favorite is Colorado Belle…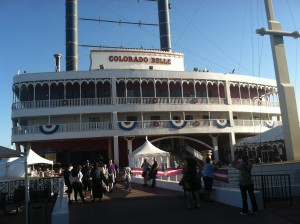 That's a lot of koi!  Don't worry.  These guys have plenty of room to roam the partial moat around the resort.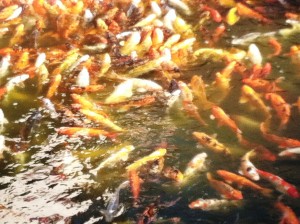 One thing that's difficult about revisiting Laughlin is that me and my "ex" once spent 3 months here.  It feels strange without her — as will a lot of places I revisit.  It's a very melancholy feeling, very mixed feelings with each passing moment.  But I want to force myself to do this (although I won't exactly seek out the old hotels we stayed at across the river).  I think this can be a powerful tool in the healing process, reclaiming these new experiences as my own.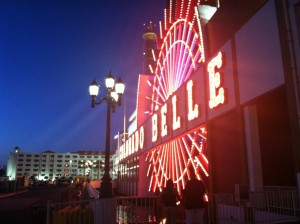 It seems very little has changed here over the years.  Here's one casino that has changed names, The Tropicana "Express" — formerly Ramada.  One change I have noticed is a shortage of old classic RVs that used to swarm the parking lots.  It used to be you would see the most bizarre motor-homes everywhere.  Not so much anymore.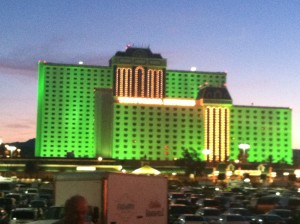 I love the boardwalk.  It's so unique because it changes scenery behind every resort.  The river is still amazing.  Even from an elevated position, you can still see clear to the bottom near the shorelines.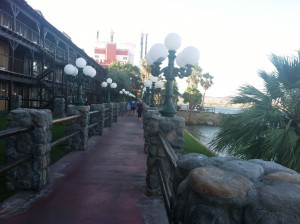 I'm less than 100 miles from Vegas.  I almost bypassed this area so I could get settled into the big city a couple days early and be well-rested for orientation and save a little bit of cash.  But I would have resented it.  I deserve a couple days off doing what I love!  I'll roll into town before noon tomorrow and have a pool day…