Current Venue: Coffeyville, KS
Campground:   Buckeye Mobile Estates
Click Any Photo To Enlarge! " * " Denotes A Definition Available on the Common Terms Page
My birthday was last Monday.  I typically forget my birthday, and holidays for that matter, except when I have a girlfriend (my girlfriends are acutely aware well in advance).  But I don't know if I've had an actual birthday cake since I was a kid, so you can imagine this was a surprise…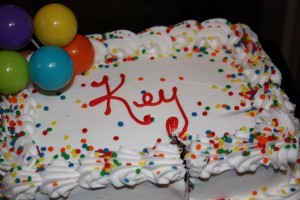 Bob and Ruby are my best friends at Amazon.  They give me a ride to work and I enjoy every moment with them.  Sweet couple.  They are now my second set of "RV Grandparents" I've decided to adopt.  (Yes Sandie, you're my first).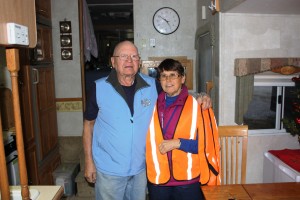 The big news this week was not my birthday.  First, I had my season extended at Amazon until the end of January.  That gives me a bit of wiggle room!  Second, a winter storm…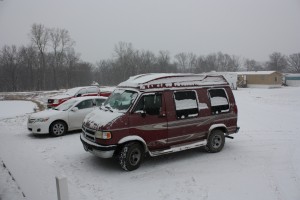 Of course, I LOVE snow.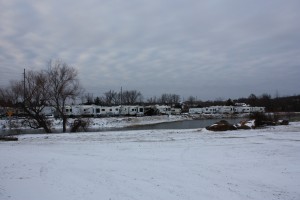 But the single-digit temperatures have wreaked havoc.  As if "48" weren't ugly enough…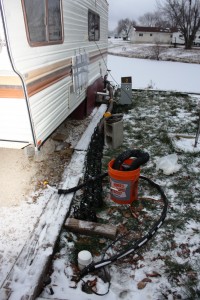 The water froze a couple days ago with the sewer hose not far behind.  You see, I don't have enough descent in the hose's 30-foot stretch to clear the wastes and, unbeknownst to me  the entire thing was stopped up and then frozen solid.  I managed to get one segment thawed out along with my water hose but am going to try anti-freeze and some toasty 34-degree temperatures tomorrow to get the rest thawed out so I can wash my dishes and use the toilet again, tomorrow.  I'll have to keep both valves closed and just do walk-throughs when I empty the tanks. The foam tape-job over the refrigerator panel is my version of a "repair."  It seems when it gets below 18 degrees my freezer reacts by thawing out!  Covering the vent did the trick. It's been a busy week. The manager of Buckeye claims the lake has never frozen over completely.  Good news, I guess — my neighbor Danny and I are eyeballing this as our fishing hole.