Current Venue: Liberty, KS
Campground:   Big Chief Campground

Click Any Photo To Enlarge! " * " Denotes A Definition Available on the Common Terms Page
"A Traveling Worker's Home Away From Home."  That's the Big Chief Campground slogan.  This is a worker's campground.  No trees.  No picnic table.  No amenities.  It's one large field nestled between a frontage road and Highway 169.  It has a laundry and showers.
And I've come to the conclusion that Kansas campgrounds have the crudest shower/restroom facilities in the U.S. because once again it's one big concrete slab and shower curtains on the bathroom stalls.  I think that's just how it is in Kansas.  It's doable.  And you gotta' love this guy…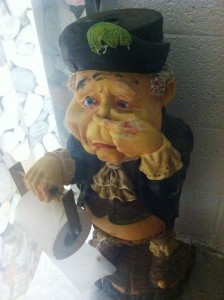 And I really do hope I don't sound like I'm complaining.  Fact is, I already know I'm going to feel right at home here.  The staff is super-nice and  I've already met some terrific neighbors, including one that's going to help me with this door…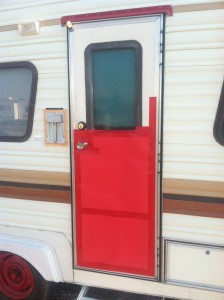 My coverup job cheers me up a little.  Yes, it's tacky.  But at least it doesn't look as if someone puked on it.  My neighbor Mick and his wife are a couple of the many Amazon workers in the park, and Mick seems pretty eager to help me reconstruct this door in a couple weeks.  I can't wait.  Away with the fiberglass and non-functional window nonsense.  It's going to be a varnished wood with some sort of red trim or inlay.
And yes, I know it won't last 10 years — 48 Ugly* will be retired in a cozy heated farm building by then.  Have I mentioned this before?  My plan is to one day find a plot of land to hook her up inside a large farm building — and then sort of build my home-base sanctuary inside the building.  I've had this idea for quite awhile and was quite surprised when I was told another full-timer has the exact same idea!
Yesterday was orientation at Amazon.  We did our I-9's and learned a lot of security and safety procedures.  I fear I'm going to have to have a talk with my supervisor…
I've been in denial for the past month about the condition of my foot.  I had a weird injury in Peublo that didn't even hurt when it happened.  With the tongue of 48 Ugly jacked as high as it would go on my unlevel site, I forgot momentarily how high off the ground I was and simply stepped out and  hit the ground pretty solid between the padding of my two middle toes.  No big deal.  It was sore the next day but has since developed a little "ball" where I had the impact.  I ice it as often as I can and "try" to stay off it.  That's clearly going to be impossible in a couple days.    I'm simply going to explain the situation and ask for his advice.  They have some sort of on-site medical staff but they may only deal with work-site accidents.  If he doesn't have any ideas then I'll just see how I get through our conditioning week, "half-days", and go from there.
All part of The Journey…