Current Venue: Coffeyville, KS
Campground:   Buckeye Mobile Estates

Click Any Photo To Enlarge! " * " Denotes A Definition Available on the Common Terms Page
I tried to embrace the idea that Big Chief is a worker's campground and "it is what it is."  But there were a couple things I just couldn't accept.  First, there have been rumors that they are insisting that some campers "double up."  Yep.  In fact, one camper moved to a different park because they insisted he move his rig up allow another RV on his site!  I was in disbelief.  But when another camper confirmed the rumor, the red flag went up.
The straw that broke the camel's back?  The showers.  Facilities in Kansas campgrounds had been less-than-desirable up to this point.  And I was ready to accept another primitive facility.  But on the day I showered with at least fifteen beetles I immediately drove to Coffeyville to check out Buckeye Mobile Estates.
Sold!  First, I fell in love with the sites backed up right against the pond — apparently a popular fishing spot.  Second, the private and modern and private restroom/shower facilities.  Not only did I make my reservations immediately, I brought my neighbor and future handyman Mick with me.  He and his wife immediately moved and settled into a nice big lot while I backed right onto the pond, my bathroom window overlooking nothing but ripples of water.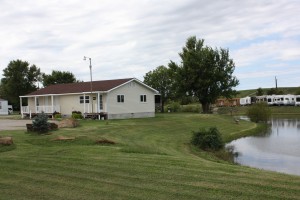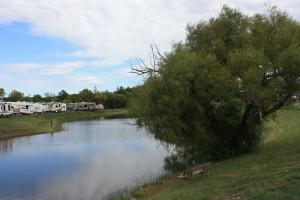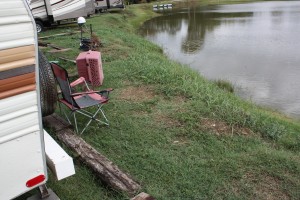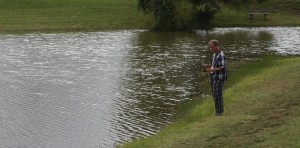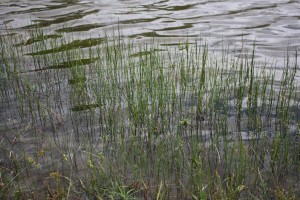 After a bit of  a struggle to get the installation fee waived, I managed to get cable installed so I could watch football on my days off — Saturdays, Sundays, and Mondays.  Almost set up…
It was funny to watch.  My neighbor, Danny (another Amazonian), would simply grab his fishing rod during moments of boredom and cast a line in his back yard.  Then he'd go back in his rig until he gets bored again.  Backyard fishing — awesome!  Does fishing get any easier than this?  I found a million ways to justify spending 20 bucks  on a fishing rod.  I figure between cable and fishing-in-my-backyard I'll save money by spending all my spare time at home.  My first stint trying my hand at fishing resulted in losing one lure and a massive tangle.  I'll try again tomorrow.
I'll be quite happy here.  I already have several carpool friends and several conveniences and parks nearby.
I've completed my first week at Amazon.  This was our "conditioning" week.  We worked 5-hour shifts instead of the ten's we'll be working next week.  Us campers will be in "stowing" for awhile.   This is taking the inbound stock that vendors send in and putting it on shelves.  Due to non-compete clauses, I don't suppose I can share much about this system but I'll say this — the "organized chaos" is quite fascinating.  It's also exhausting.  While our scanners are very "smart", much like Google, us newbies will be spending a couple weeks figuring out what these scanners are trying to communicate to us.
I can't say our paychecks look promising.  I just don't know that much overtime is in our near future.  I'm thankful I double-booked another gig in North Carolina — despite not knowing how I'll have enough money to get there.  Oh yeah, and besides my missing door panel, there is my newly acquired shredded tire…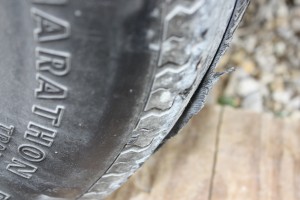 One day at a time.