Current Venue: Altamont, KS
Campground:   Idle Hour Lakes
Click Any Photo To Enlarge! " * " Denotes A Definition Available on the Common Terms Page
I had gone 10 Travel Days Without an Incident.  With wind gusts over 30 miles per hour, I was uneasy about leaving Halstead.  The next day would have much of the same, however so I opted to leave earlier rather than later.  The wind turned out to be not much of an issue except for about 40 minutes of the journey.  It was during that time that I thought I heard a terrible ripping or grinding sound.  But when I turned down the radio, I didn't hear anything, so I dismissed it.  About 3 hours later, I discovered what had happened…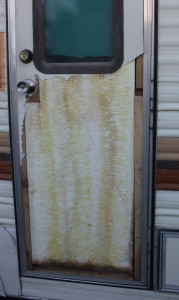 The door panel had blown off!  Last year in Phoenix a neighbor helped me reassemble this door when the wood had rotted out at the base.  Seeing this view gives me a whole new perspective on how little is actually holding it together.  It surprises me most of it is styrofoam considering the weight of this sturdy old rig.  My neighbors are going to love this.  I didn't get off to a good start at this lovely campground.  On a seemingly calm day down here in southern Kansas, I unlocked the door and… …a rogue wind came out of nowhere snatched it out of my hand and slammed it hard against the side of 48 Ugly*!  This jarred the inside panel loose!
Upon further examination there is virtually no structural integrity left.  With no money at the moment, I'm going to just tighten some screws, do a tacky red duct tape coverup job, and hope for the best until I can address this matter.  Not a good start. I had to take a breather.
Before unhitching, I took a stroll down to the restrooms to splash my face and check out the shower facilities.  No water!  I would find out soon enough that a water main had broken and wouldn't be repaired until late evening.  The facility itself did nothing to improve my spirits.  The bathroom stalls had no doors — shower curtains, instead.  The showers are rather "public" and the levers are connected to these "spring-back" contraptions so prohibit continuous water flow.  It appears it's been that way since the 50's.
Back at my site I quickly found myself on the phone with the City of Altamont, who runs the park (there is no office).  We discussed water and cancellation policies.  A police officer came and collected my $10 fee (Amazon would start picking up the tab 2 days prior to my start-date).
I was then harassed by a wasp.  We found each other in the van as I was unhitching.  I'm slightly allergic to stinging insects, and I have a special disdain for this particular kind of wasp.  I grew up with them, and they would never leave me alone.  This one seemed particularly angry but I managed to jump out of the vehicle and shoo him out.  But was he done with me?  No.  He aggressively attacked poor Memphis Red* and even invited a couple friends to join in this random act of gang-violence.  For a moment I thought there was going to be an entire swarm and I'd have to somehow rescue Jeepers who was sitting outside in his kennel.  But thankfully it didn't come to that and they eventually lost interest.
I took these things as a sign.  Here I was at a beautiful campground and simply nothing was going right.  As soon as I got camp set up, I took my shortcut/backroad route to Amazon to go on a little scouting trip.  As I suspected, the 15-mile trip consisted largely of loose gravel and narrow bridges.  This wouldn't do.  From Amazon, it didn't take long to find my campground.  It's directly across the street!  I'll be switching soon.  Even if the next day is a little better, $75 per week in gasoline in trade for a great view just doesn't make sense — particularly when I might rarely see daylight, anyway.
And the next day WAS better.  Aside from the showerhouse and it's proximity to work, it's a great spot!  I'd actually highly recommend it to anyone vacationing in southern Kansas (LOL) — it's just not a good fit for me.  They actually have a terrific 18-hole disc golf course that wraps around a couple of the lakes and through the woods…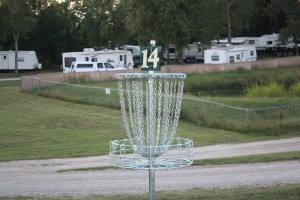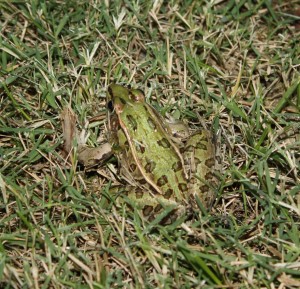 And the sunsets…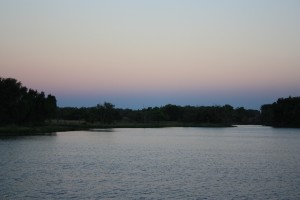 It's really stunning here (for Kansas), and yet I can't wait to leave and get settled in at the city worker campground?!?!?