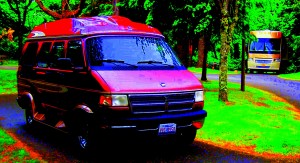 Memphis Red
My tow-vehicle is a 1997 Dodge Ram Van 2500.  When I purchased it a few years ago in Memphis (before I was an RVer), I immediately had some seats removed and folded out the bed in the back.  It became my bedroom-on-wheels and served as my own little RV on some of my previous adventures.
It was quite comfortable for awhile.  In fact, I slept through a 5-degree ice storm in Oklahoma once. It was perfect for  those long trips when I would just pull over and take a catnap.  On many occasions I even took naps in it when I was playing poker at the casinos.
And, aside from the many times I  I didn't want to bother with hotel rooms, I had a few extended adventures in it, as well.  Once I camped down the Oregon coast  for 3 weeks.  On another occasion I camped for a week in the Texas countryside (and payed for the trip playing poker on my laptop).
Many, many memories…
But alas, I had to remove the bed in 2012 in preparation for The Ultimate Journey.
After all, I had to make room for storage and…
Crash-Test Dummy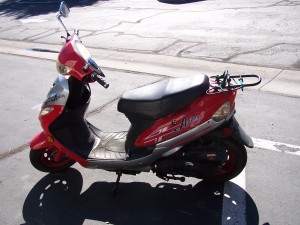 My little 50-cc scooter has been used and abused.  During my years in Reno I rode Crash-Test Dummy pretty much everywhere.  I ride it wherever I can, now — dependent on state laws.  Much of the time, I'm confined to my RV park, which is fine also — it actually comes in handy in getting to and from the facilities and is perfect when I want to do a bit of sightseeing within the park.
Crash-Test Dummy is incredibly resilient.  So far it's been through 2 nasty wrecks, hit by a drunk driver, and taken on some ill-advised off-roading adventures.  It's beaten up, cracked in several places, missing a few parts, and weather-damaged — but still runs like a dream!
Here's a shot of the entire crew — all twelve wheels.  (This was my maiden-voyage
from Reno to Susanville, California…)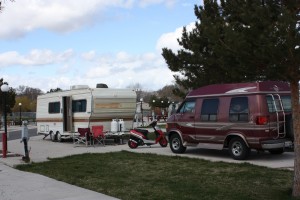 I suspect this second-hand outfit will stay together for quite awhile.  If I make it to all 48 states
with this whole crew intact, I'll be very pleased.
Last updated August 29, 2012