His personality is infectious.  I once saw the impossible — about 10 grown men (poker players) stopped what they were doing just to play with him.  Jeepers is the most social feline you'll ever encounter, and has quite an effect on people — even non-cat-lovers.
He's a lover.  He like to be squeezed, held, hugged, and kissed.  Pick him up?  He'll go limp.  Want a comfort pillow?  He'll cuddle with you.  Jeepers is also a purr-box.
I think he'd be terrific with kids.  He loves to play and is incredibly tolerant of being mishandled and squeezed.  Additionally, he is trained not to play rough. He simply loves activity and, while he'll most often try to participate, he also enjoys just following people around just to observe them.
He would be a good fit in other homes, too — as long as their is lots of love available and plenty of activity.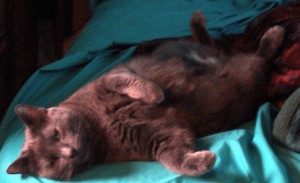 More About Jeepers
Playful:  Laser lights, strings, paper balls.  Jeepers is especially fond of playing catch.  He's also trained not to "rough-house."
Intelligent:  Jeepers knows several commands and is typically very obedient.  He is also very prompt to communicate with you –when HE needs something.
Special Needs:  Due to his irritable bowel syndrome and drippy eye, Jeepers is on a strict diet and requires medication every few months.  It's not costly, but does require certain attention.
Special Behavior: Having grown up in hotel rooms and an RV, Jeepers has been allowed on counters and table-tops so he can look out the window.  Training may be required to eliminate this behavior.
Special Requests:  Jeepers should never be boarded or declawed.
Other Pets:  In all likelihood, he can't be with other cats.  Most cats quickly go on the defensive with him.  Additionally, if he gets a hold of dry cat food, he'll get sick.  He gets along well with my catsitter's dog, but I'm not sure how he'd react to other ones.
Do you think Jeepers would be a welcome addition to your family?
Contact Key Ward:  keyward9@gmail.com or 901-481-5504