Click Any Photo To Enlarge!
Where I'm At: Needles, CA
Campground : Fender's River Road Resort
America's Main Street
I've always had a fascination with Americana, vintage hotel signs, and the mystique of Route 66.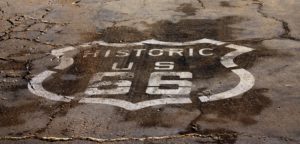 So my stay along the route gets me to thinking: I've always dreamed about my 6-month journey starting at the source of the Mississippi, working my way down to the Gulf of Mexico. Being the great river begins in Minnesota, why not precede that journey with another adventure — I could take a few more months to make my way from California to Illinois on Route 66!
It's almost a certainty I'm going to make this happen.
A Campground with Character
Fender's River Road Resort is sort of a "tri-level" campground. The upper level offers a few RV sites and the roadside motel. The signage is classic and the theme is all Route 66…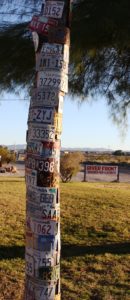 The middle level isn't quite riverfront, and a few of the residents stay here. Everyone, especially the staff, is very friendly and accommodating. I wish I'd saved some dirty clothes, as this is one of the better views you'll find from the balcony of a laundromat…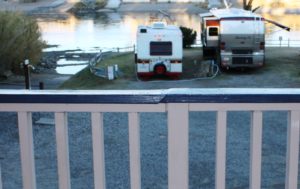 The bottom level is all about the Colorado River.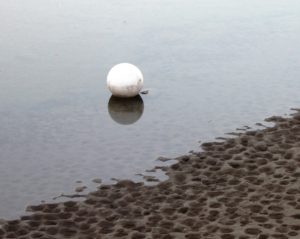 I love the double-decker…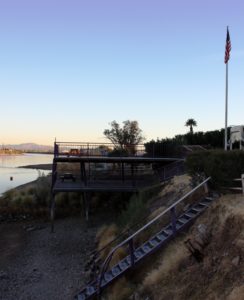 And the views aren't half-bad, either…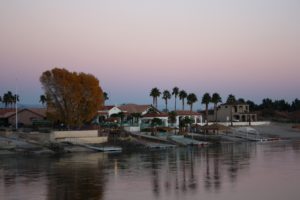 Site 18 1/2
You read it correctly. It's called site 18 1/2 because it was sort of an "afterthought." It's not perfectly level, you need to run your hose underneath your rig and, if you're towing a trailer you might as well stay hitched — because you're not going anywhere! It's a little bit of a "misfit," like me.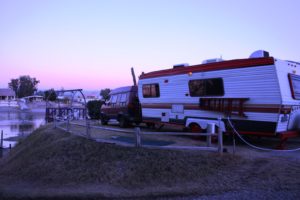 But look at this site! I have a nice big yard with no neighbor on the left — and pretty much my own personal pier directly in front of me! This one makes my top ten list as far as all time favorites.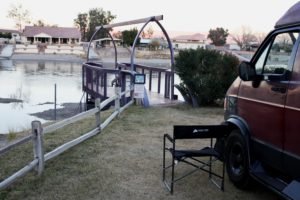 In fact, I've already booked a two-nighter in February (with Passport America, I can stay up to 3 nights at 50% off). This is a perfect stopover point from Southern California or Arizona en route to Vegas and I think I'd like to work it in the mix with one of my other favorite stopovers (Cal-Nev-Ari).
My New Process
I'm really beginning to formulate a new planning process when I book campgrounds, now. These days, each one takes on a certain "role" based on what's available to me. For instance, the upcoming weeks sort of look like this:
Las Vegas, Nevada is a spot that I'm generally focused on work, exercise, repairs, and home improvement.
Quartzsite, AZ is a place I'll visit friends and mostly relax. I won't generally have much of an agenda, here.
I'm visiting 3 San Diego-area campgrounds that I've never been to, before. I suspect these will be great spots for outdoor exercise.
Palm Springs, CA is definitely about pickleball and social activities.
Needles, CA will be a perfect spot for reflection and brainstorming.
Cherokee, NC will be mostly work.
My resort in Pahrump, NV has an excellent internet station where I can get a lot done on the computer for 2 weeks…
I'm finding this process is necessary for my wonderful, yet complicated lifestyle. Productivity is still a must, but I need to continually adjust my schedule based on the resources available to me.
Constant Adaptation.